After the last weekend 33rd round matches was postponed because od death of 25 year old footballer of Livorno,Morosini,club in Italian Serie a this weekend are returning to the stadiums,and on schedule is a 34th round of Serie A,while postponed matches will be played in upcoming week.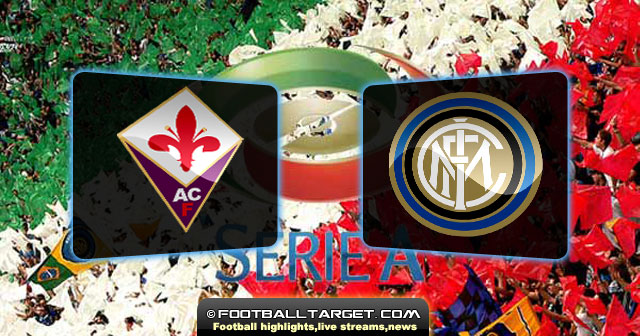 So,this Sunday first on the pitch will come out footballers of Fiorentina and Inter Milan who are currently on different part of the table,where Fiorentina is currently on 16 th place while seventh placed Inter Milan after several good games again join in the battle for european places.
Otherwise, "nerrazzuri" have a great score in the last matches with Fiorentina, because against them they managed to grab 11 wins and two draws.
And these are two draws players Florence footballers get just before two or three seasons at home, while last year, however, they were defeated with 2:1, in a match where they were completely equal opponent. But all this has long been forgotten, because this season, Fiorentina plays a lot worse and they came in a very unenviable position at the table, where they only three 18-point run away from the 18th placed Lecce. However, in the last game they missed a great opportunity to come on as the host to perhaps the key points in this struggle for survival, but this time they only drew with the Palermo.
Of course this was a big disappointment for their fans, especially as in the previous round they made a big sensation when they at the San Siro were able to celebrate against the reigning champion Milan with 2-1. But obviously in this match they exhausted, both physically and mentally, so against the Sicilians they were not creative at all in the attack part.
Therefore, the coach Rossi announced that in midfield instead of De Silvestri and Kharj this time will get a chance Cassani and Lazzari, who against Palermo in the finish of the match provided plenty of liveliness. Also, in the attack will come to some changes, and enforcement one, since is suspended experienced Amauri so for Jovetic this time as a partner will be young Ljajic, who actually against Milan gave a very good game. Otherwise, the duel with Inter will miss still injured from before defenders Croldrup and Camporese as well as offensive midfielder Vargas.
Fiorentina probable lineup: Boruc – Gamberini, Natali, Nastasić – Cassani, Behrami, Montolivo, Lazzari, Pasqual – Ljajic, Jovetic
Unlike Fiorentina, Inter players in the last three matches won seven points and with that they again return in the race for the European position, which otherwise after a series of desperate results seemed completely unattainable. Their last defeat against Juventus turn the things around, so the president Moratti resigned coach Ranieri and at his place appointed 36-year Stramaccioni, and gave him a free hands, but with only one desire, and that is that Inter by the end of season play a lot more offensive and flutter.
In his debut appearance new coach listen him, so at home in a completely open game against Genoa,Inter celebrated with as much as 5:4, while the next two matches they have scored two goals, play draw away at Cagliari ,and celebrated at home against Siena. After these great parties apparently their appetite again has increased , so they announced that they will now try to get hold of even the Champions League place, and for that they certainly require victorie in Florence.
This means that at Friuli we will se again extremely offensive Inter, with three strikers, from which certainly needs to allocate revitalized Milito, who with two goals achieved against Siena again broke to the second highest scorer in Serie A this season.This time also due to injuries in the competition they are not midfielder Wesley Sneijder and defender Maicon, while experienced defender Samuel is suspended for this match
Inter probable lineup : Julio Cesar – Zanetti, Lucio, Chivu, Nagatomo – Cambiasso, Poli, Stanković – Zarate, Milito, Forlan
Prediction : Given that both teams desperately needed points in order to fight for survival, and for placement in Europe, at this meeting we expect an extremely open and dynamic game, especially since the new face of inter recently provide a open game with lots of goals in the net.Over 2,5 goal.


Watch match AC Fiorentina – Inter Milan on live stream ,and full match video  highlights after the match at Footballtarget.com