Serie A match : AC Milan vs Juventus Preview,Watch Live -streams online,Prediction Serie A
Stadio Giuseppe Meazza — Milano
Referee:‬ N. Rizzoli‎
Watch AC Milan vs Juventus Live online here
On Sunday night's program is another big European derby, in the 14th round of Italian Serie A, where the forces will mete two old rivals AC Milan and the current Italian champion Juventus,who is also the currently Serie A leader.
Perhaps it is hard to call this match a derby one knowing that AC Milan is only the 12th placed team,with 17 points less than the first placed team,Juventus.
Still,both teams are one of the Italian´s biggest and the big history is between them.Last season Juventus footballers were somewhat better,considering they have won the home match with 2-0,and drew 1-1 in Milan.In the Italian Cup they also eliminated AC Milan,so to conclude this introduction we can say that things didn't change a lot considering both teams current league positions.
AC Milan Preview
That's why we now expect that the coach Allegri in this derby tries one more offensive approach to get some revenge for all the failures in the past season. Certainly that confidence of AC Milan players have grown after last weekend's Serie A match,and a draw 2-2 against Napoli,after going behind.Hero was a young Milan´s striker El Shaarawy who scored both goals for his team, while also the rest of the team looked a lot more mature than in several previous appearances.
Also, last week in the Champions League they came to a very important victory on the away game against Anderlecht 1-3, by which they actually and ensured a placement in the next round, so this match with Juventus they can earn a much more relaxed.
Even more because Rosonneri´s coach Allegri now has something more favorable situation in attacking part of team, while his defense is still decimated by injured players like Abate, Antonini, Bonera, Mesbah and Villa.
It actually means that this time on the left flank should play Constant, who is a midfielder by vocation, but still needs we need to add that in that midfield positions,coach Allegri still can not count on Muntari and Strasser.
Juventus Preview
We have already said in the introduction that and this season also Juventus is playing very well and it´s currently a leading team in the Serie A competition, with four points more than the second-placed Inter, while in the Champions League last week Juventus footballers have come to a great domestic triumph of 3:0 over the European champions Chelsea, which largely have opened them a door of the second round.
However, it should be pointed out that prior to that match in the national championship they only drew at home against Lazio (0-0), while two rounds earlier players of Inter Milan inflicted them the first defeat after 49 official matches, at the Turin Olympic.
But in their camp, they're not too concerned about these two blunders, because in the meantime as the guests in Pescara they celebrated with even 6:1 and thus once again showed their strength. Certainly, their last match against Chelsea has boost team´s morale in front of this tough visits to Milan.
Otherwise, the coach Alessio has announced that Juventus will play offensively and try to take three points from this match,therefore it is expected that duo Vucinic-Giovinco will play in attack.
But on the other hand, in defense this time Juventus has big problems, because Bonucci (doubtful) and Chiellini are injured, and probably their places should take duo Lucio – Caceres.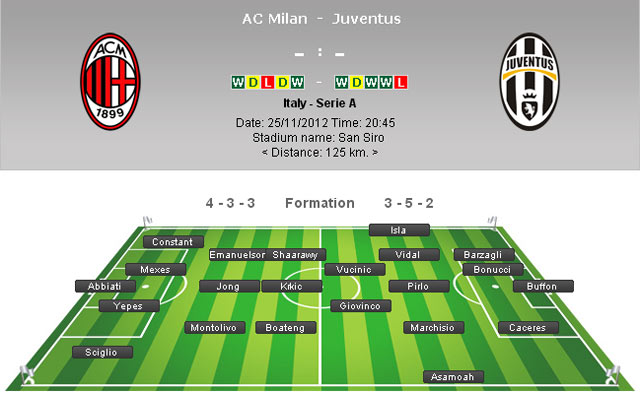 Match Prediction : Recent offensive games of both teams give us a reason to belive that and this time we'll watch attractive and effective match, in which at least shortly will be forgotten a familiar "catenaccio".Both teams to score or over 2,5 goals.If you are looking to pick a team here,Juventus looks much stronger and it shouldnt lose this one.