Whenever we discuss playing styles about a football club, Arsenal certainly comes to our mind as a free-flowing attacking football team who rely on their creative players to make the difference. Wonderful goals like Jack Wilshere's against Norwich or Tomas Rosicky's against Sunderland are a joy to watch and shows the creative football played by Arsenal.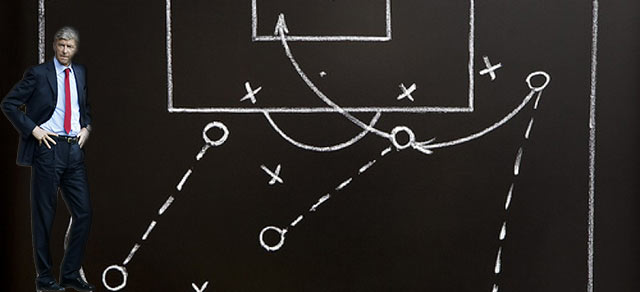 However, in this North London Derby against Tottenham Hotspurs it was a very different Arsenal. They couldn't string their passes together, couldnt get the ball out of their half for major periods of the match. The positive side was they defended resolutely and pressed a lot, soaked up a lot of pressure and came away with a clean sheet away from home and much more importantly, 3 vital points which keeps their title hunt still alive after Chelsea's loss to Aston Villa. Arsenal are 4 points behind Chelsea with a game in hand and they face Chelsea this weekend. Winning both matches could possibly take them to the top of the table and one point clear of Chelsea.
Arsenal are a bit short in the creative department as Mesut Ozil, Jack Wilshere and Theo Walcott, all suffer injuries of varying degree. No doubt players like Santi Cazorla and Lukas Podolski are still playing week in week out for Arsenal but now need for change in tactics is there.
Arsenal's next three fixtures will determine whether they have the tenacity, resolution and determination to win the EPL Title. They face Chelsea, City and Everton. Arsenal have not won against these three oppositions prior in the season. They were mauled 6 – 3 by Manchester City and couldnt score a goal against Chelsea. Now the face Chelsea at Stamford Bridge where the odds are firmly stacked against Arsenal as "Wenger has never beat Mourinho" and "Mourinho has never lost at the bridge." Arsenal will have to defend well and score goals if they want to keep their title challenge alive.
The tactical change maybe to have more people behind the ball, hit teams on the break and get bodies while blocking. Like the saying goes "You cannot lose if you don't concede.", Arsenal may just have to sacrifice their free-flowing football to keep their title challenge alive as at this point of the season points matter more than performances.
Plus Arsenal need to put an end to their trophy drought sometimes some extreme steps might be taken. If they win the league after this no one will remember that Arsenal defended a lot, it will just be remembered that they won the tightest EPL race.