Arsenal is preparing to reach deep into their pockets to keep their best player and captain Robin van Persie in the club for a few more years …
On Wednesday is scheduled long-awaited meeting between van Persie, manager Arsene Wenger and Executive Chairman John Gazidis, and the topic will be the solely van Persie´s extension as his contract expires next summer.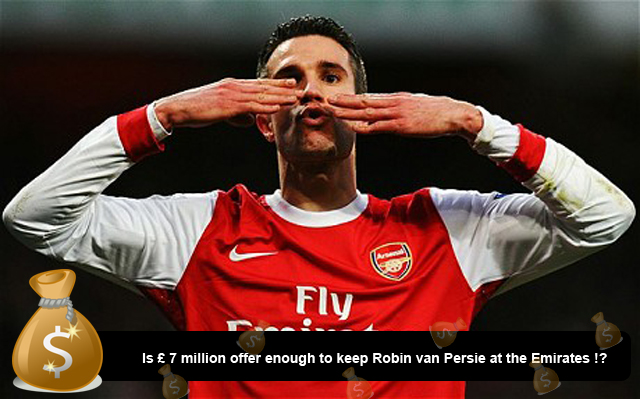 Daily Mail finds out that to the Dutch striker and Gunners best goalscorer in Premier League this season, who currently earns £ 70,000 a week will be offered a three-year extension worth about 130,000 pounds a week.
Therefore van Persie earnings would exceeded the earnings of the top scorer in the history of the club Thierry Henry and Cesc Fabregas.If Robin van Persie signs a new contract,immediately to his account Arsenall will pay an additional sum of five million pounds.
While Arsenal is hoping that Van Persie will repond to this offer soon, before the Euro, the English daily said that it might not be so.
In its ranks, among others, Juventus, Manchester City and Barcelona wants Gunners striker. Van Persie agent Kees Vos has previously admitted contact with representatives of the "citizens" who can offer £ 220 000 of weekly earnings to his client.
Arsenal, therefore, will reach really deep into the club's cash deck to avoid last transfer period (left Nasri, Fabregas, Clichy …). The question is will it be enough !?