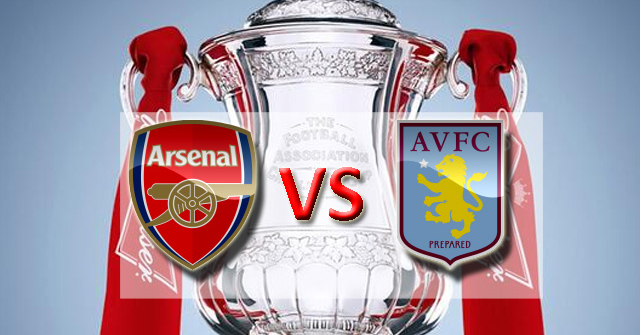 FA CUP
May 30, 2015 • 17:30 • Wembley Stadium, London
Referee: J. Moss
Arsenal vs Aston Villa Live Streams
Watch Arsenal v Aston Villa FA CUP Match Highlights
The Final game of English football this season will be played this weekend as the FA Cup final take place where Arsenal will try to win it for their second consecutive time against Aston Villa.The Gunners will try to make history this season as they'll be the team with more FA Cup trophy's and the first team to retain the trophy since Chelsea did it 5 years ago.Meanwhile , Aston Villa will try to come victorious after more than 50 years.
Arsenal
Arsene Wenger is confident that his team will make history this week-end as they will surpass Manchester United by winning their 12th FA Cup. The French manager has won 5 of them during his team at London.
Wenger congrats all the team for the good performance this season as they've reached the final and he admits that they must continue to play as a team, and win the trophy together as a team.
"It is important to focus as a whole squad on winning the trophy," said Wenger. "Most of the time the heroes are the people who come on in an FA Cup final – they make the difference.
"That's why it is important as a reward for the whole team who have fought very hard the whole season to get there. Let's deal with it as a whole squad.
"What is important is that we do not make too many individual cases before the cup final. It's the whole team who can win it."
The French manager is in a big doubt about the attack since Walcott come back from injury.The English International made a great performance last week as the found the net 3 times, but also Olivier Giroud has made a great season as the french striker has scored 18 goals in 35 appearances this season.Meanwhile Danny Welbeck remains out of competition as the former Manchester United striker is suffering a knee injury. Arteta and Debuchy also are unavailable for Wenger this time.
Arsenal (4-2-3-1): Szczesny; Bellerin, Mertesacker, Koscielny, Monreal; Coquelin, Cazorla; Ramsey, Ozil, Alexis; Walcott.
Aston Villa
Despite having a disappointing performance at Premier League by finishing 17th, only +3 more points than Hull City who have been relegated. But the FA Cup performances has been completely different as Aston Villa has knocked out many big names like Liverpool at the semifinals.
Aston Villa has returned to FA Cup final after 15 years but this will be their chance to get the trophy home after many decades as their last FA Cup trophy was recorded on 1957.
The Former Tottenham manager, Tim Sherwood admits that the pressure is on Arsenal and his team must repeat their performance against Liverpool to come out victorious from this clash.Sherwood remains confidient on Christian Benteke abilities to solve the match when its needed.
"To be part of an FA Cup final is a fantastic achievement for this football club. I'm very proud," said Sherwood.
"The pressure is on Arsenal. It's a one-off game and form goes out the window. They've been there and done it before. We're not going there to make up the numbers."
"The boys know they can make history. Someone can be a hero in there. It's an opportunity for everyone to write the history books again." finished Sherwood.
Aston Villa will face Arsenal without the names like Givenor Okore wich will give the chance to Guzan and Baker to make their first appearance for Villa since a long time.
Aston Villa (4-3-3): Given; Hutton, Vlaar, Okore, Richardson; Westwood, Delph, Cleverley; Grealish, N'Zogbia, Benteke.