Arsene Wenger's men welcome the German side, Borussia Dortmund hoping to put an end to the recent bad results and to seal their place in the knockout stage of the Champions league.
UEFA CHAMPIONS LEAGUE
Arsenal vs Borussia Dortmund Live Streams
November 26, 2014 • 19:45 • Emirates Stadium, London
Referee: V.Kassai
Arsenal vs Borussia Dortmund – Match Highlights & Full Match Replay available after the game end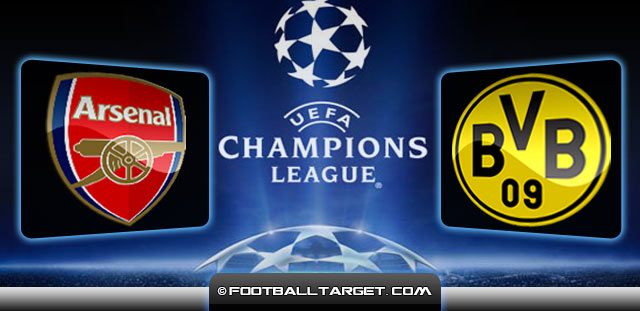 Theoretically Arsenal have not sealed the place in the Champions league next stage, despite having all in hands three weeks ago when, after having a 3-0 lead, Gunners conceded three goals and played only a draw against the Belgium side, Anderlecht. From then, things went from bad to even worse. Away 2-1 defeat to Swansea City and then this Saturday a home defeat to Manchester United with the same result, 2-1.
Wenger is under a lot of pressure and exactly the coach on the bench of Dortmund is mentioned as the most wanted to succeed Wenger on the Gunners' bench.
The north Londoners currently sit on 2nd place having 7 points which means that with a point from this match they could secure the next stage. A win could give Arsenal a chanche to even seal the group first place in the last round, but, an another defeat would put Wenger's team onto verge of the elimination if Anderlecht beats Galatasaray. Then in the last round Galatasaray at home in looking to seal the Europa league's place with a win over Gunners could eliminate them. Still, it is unlikely that scenario can happen.
The last time Borrusia Dortmund came in the town, Germans celebrated a 2-1 win, while at Signal Iduna Park in September they did the same, but with a minimum 1-0. A good news for the English side is that Dortmund already secured the next stage so Klopp most likely will give a rest to his key players.
"We all know that our last match in the Champions League at home to Anderlecht was disappointing," Szczesny told the club's website. "
"But we must put that behind us and we're all ready to bounce back against Dortmund and hopefully get a place in the last 16."
"We know that we only need one point from our last two matches to qualify for the last 16, but we know that we have not made it yet. We're playing at home in front of our fans and we're confident that we can put in a good performance and qualify."
As for the team news, Jack Wilshere (ankle) is doubtful after picking an injury against Manchester United, while Olivier Giroud was not registered as part of Arsenal's Champions League squad.
Borussia Dortmund on other side is doing fine in Champions league competition. The same could not be said for Bundesliga where they occupied the 16th place with only 3 wins. After victories over Galatasaray and Gladbach, Dortmund failed to seal a win against Paderborn despite having a 2-0 lead.
Champions league is something else and the Germans secured the next stage. With one point from the last two games Klopp's side can seal the group's first place. Klopp probably will give a rest to some of his key players while Marco Reus, defensive midfielder Sven Bender, offensive midfielder Jakub Blaszczykowski and defenders Mats Hummels and Sokratis are all sidelined due to injuries..