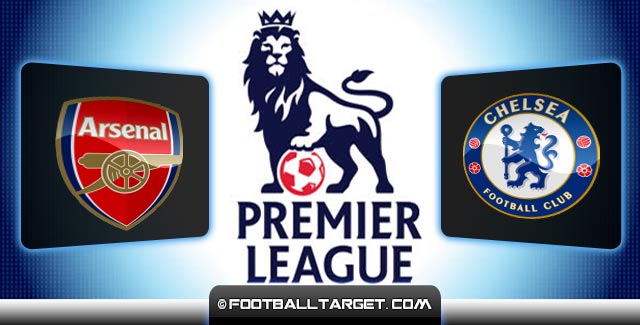 PREMIER LEAGUE
April 26, 2015 • 16:00 • Emirates Stadium, London
Referee: M. Oliver
Arsenal vs Chelsea Live Streams
The last match of the Premier league's 34th round brings us a big clash between the league toppers, Chelsea FC and Arsene Wenger's Arsenal who sit on the third having 10 points less. Manchester City with a late win thanks to Fernardinho jumped over Gunners with one point more at their account but the North London side played two games less that the Citizens.
Arsenal are on the run of 10 straight consecutive win in all competition, while the Blues have four in a row, all with a minimum lead, which suggest that Arsenal might be the favourite here but the French on Arsenal bench, Arsene Wenger still looks for his first win over Jose Mourinho. Rivalry between those two is big, at least as media suggest it, but Chelsea boss plays down that same rivalry.
Chelsea manager Jose Mourinho does not expect Cesc Fabregas to get a bad reception from the crowd on his return to the Emirates, but Mourinho says the midfielder is "more than ready" if he does get a poor reaction.
"For me he is not my rival, I don't feel that. I just feel he's the manager of a big club in the same city where I work and live," the Portuguese told reporters.
"We're big clubs with the same objectives and because of that there will always come a little bit of rivalry but for me it's no different to when I was at Inter with the Milan managers or in Real [Madrid] with the Atletico managers.
"I'm not proud [of his record over Wenger], for me an achievement is to win [on Sunday], not the other 12 matches that we played before against Arsenal, I don't look to this.
"Every match is a match, no relation to the previous or the next one, what they [the players] care about is the way we work all week and the way we prepare ourselves for the game."
Tensions between Wenger and Mourinho might be from time to time high, but on the other side Arsenal boss, Wenger did the same as he plays down record versus Mourinho.
Speaking of the upcoming encounter with the league toppers, Wenger said:
"When you are fighting for the championship – and I know that well – when you are on a good run, sometimes you take points that in another season if you were two or three places behind, you would not take."
"The focus and belief is there and is a bit stronger that we can take these points. The difference between the teams is not only measured by the difference in points.
"But nobody has given Chelsea the points. They had to fight for it and they made it."
Perhaps both managers did play down their mutual "rivalry" but it's good to reflect a month back when Wenger poked Mourinho's tactic, saying "it's easy to play defence". We did not needed to wait a long time for Mourinho's response as only a day later the Portugese coach said: " If it's easy, why Arsenal have lost to Monaco 1-3?".
This only tell us that indeed Wenger will give his best to make 13th his lucky number, while Mourinho on the other side will do he's best to remain unbeaten against Wenger. With this in mind, we know that we can expect a lot from this game, not only on the pitch, but on the touchline as well.
Regarding the available players, Mourinho can't count on Obi Mikel while (hamstring) and Loic Remy (calf) remain doubts. The good news for the Blues is that Didier Drogba is fit for this clash. As for the Gunners, Arteta, Diaby and Oxlade-Chamberlain are out while Wenger described defender Per Mertesacker as "50-50".
Teams probable lineups
Arsenal: Ospina – Bellerin, Gabriel Paulista, Koscielny, Monreal – Coquelin, Ramsey – Cazorla, Özil, Sanchez – Giroud
Chelsea: Courtois – Ivanović, Terry, Cahill, Azpilicueta – Matić, Fabregas – Willian, Oscar, Hazard – Drogba