What a game this will be.It was expected this game with lots of impatience,but it was hard to predict that the host will needs points desperatyle so they could stay in run for Champions league places,while already entered title of league champions to Real,is seriously endangered and they can't allow themselves anything other then all three points.
Also it was not expected that this match those two clubs will start after disappointment results over the weekend in which both clubs have failed to score at least a goal.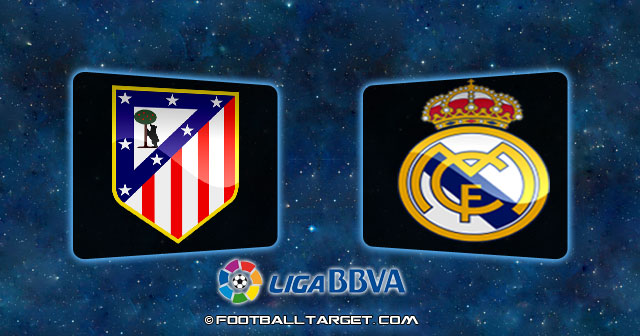 in first half of season Real celebrated with 4-1 after Atletico took the lead 0-1,and regards to matches played at Vicent Calderon,Real Madrid manage to win last five of them.Last match which Atletico win against Real Madrid was in 1999 year.
Atletico Madrid this season is playing great only in Europe league,while in the national league,its just an average team with lots of ups and downs,and much more weaker away games.After they beat German Hannover twice,this Sunday they lost away match against Levant in direct battle for place which lead to the Champions league.They concede first goal in second minute of the match,and second goal in 10th minute which was the end of hopes for some positive result from that match.
Atletico Madrid coach ,Simeone wasnt rested any players,and he sent the best team to the field except their strike Falcao,which in the end wasnt the best choice as final result without a goal sugest.However,Faclao come in to the game in second half,but it was too late to change things .In the finish of the game,Atletico player were nervous so their defender Miranda was sent off and he is suspended for the match with city rivals,Real Madrid.Salvio and Mario Suarez are also suspended for this match,but Koke is expected to return after he paused in the last match. Antonio Lopez i Silvio are injured.
Atletico Madrid probable lineup: Courtois – Juanfran, Godin, Alvaro Dominguez, Filipe – Gabi, Tiago – Koke, Arda Turan, Diego – Falcao.
We cant say that Mourinho´s team hit some crises,but they once in a while play some poor match where they spill NEPOTREBNO valuable points,so the advantage they had over Barcelona is complety melted,and its now just one point ( Barcelona have one game more,in which they beat Getafe this tuesday with 4-0  ).
the important thing to say here is that Real Madrid still need to paid a visit to Nou Camp,so if they lose this match it would be really hard for them,especially when they lost four points on their Santiago Bernabeu.First Malaga,however unlucky for them in last moments of the game,and then Valenica this Sunday where they failed to score at least goal from lots of chances they had,but also they could easily lost the game,as Valencia had their chances to.Mouringo couldnt count on Serio Ramos,and that was a big deal for their defence in which again was nervous Pepe.Benzema and Higuain played in attack ,and Kaka was on the bench.
For the match with Atletico, Ramos is set to return,and Coentrao could replace Marcelo.
Real Madrid probable lineups: Casillas – Arbeloa, Sergio Ramos, Pepe, Fabio Coentrao – Khedira, Xabi Alonso – Di Maria, Ozil, C.Ronaldo – Benzema
Prediction : This is going be a real warrior game,in which host need points and they want to beat their city rivals,and Real Madrid come into the situation in which they can't allow themselves to spill any points more if the want to win the league title.Tradition is on the side of Real Madrid,they have bigger motivation,and they are better team overall,no matter on pressure in which they are they simple must win this game.So Real Madrid to win,and both teams to score like over 2,5 goals will be a good choice here to take.
Highlights : Atletico Madrid – Real Madrid
Watch Atletico Madrid – Real Madrid live from our live stream section.