Diego Simeone's side host La Liga toppers Real Madrid looking to extend their five-match unbeaten run against their city rivals and to cut the gap behind the leading Los Blancos who can't count on many injured players, but the good news is that Ronaldo served his suspension and he is back for this derby.
La Liga
Atletico Madrid – Real Madrid Live Streams
February 7, 2015 • 15:00 • Estadio Vicente Calderón, Madrid
Referee: David Fernandez Borbalan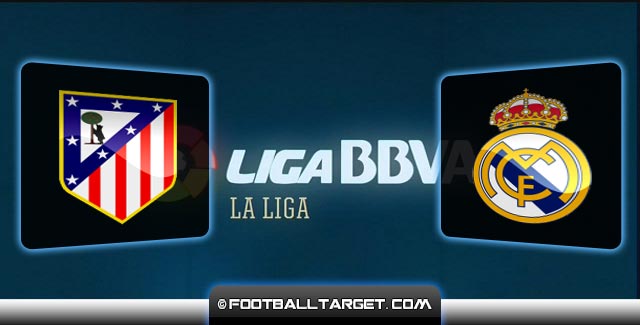 Atletico this season beat Real Madrid at Santiago Bernabeu and knocked The Blancos from Copa del Rey, and now Diego Simeone's men have a chance to cut the gap in the fight for the title. Defeat in this match could mean losing all hopes for Atletico to defend the title, as the gap would be 10 points.
Atletico Madrid's form is good, but Barcelona and Real Madrid are much stronger this year, so the third place is not to wonder. The Los Colchoneros are unbeaten against Real Madrid in the last 5 games, but at the end this did not bring any special thing for them. For an example, Simeone's men knocked Real Madrid from Copa del Rey  and later on were eliminated by Barcelona from the same competition with two defeats. A win in La Liga over the Blancos, again, did not bring any value as Real Madrid are the leading team with 4 points clear above Barca and 7 above Atletico.
In the last round without Gabi (was suspended), Arda Turan (injured) , Juanfran (rested) Atletico beat Eibar away 3-1. All three of them should be available for the clash with Real Madrid.
Atletico Madrid defender Diego Godin is aware that all wins over Real Madrid doesn't mean anything, but derby is a derby :
"We want to win – we always want to win. Even more against Real Madrid," he told reporters. "It's a different match and just because we won the previous matches doesn't mean we'll win this one.
"We must plan it well, follow the path we're on and that's what's going to bring us closer to the result we want. It's an important match against a direct rival, because of what's at stake in the league.
"Playing at the Calderon, with our people, we aspire to win.
Meanwhile Atletico Madrid boss, Diego Simone believes in his team and tactic and wont change a thing, but this time from the first minute Atletico's attack will lead Mario Mandžukić except Torres who scored twice in the last match vs Real Madrid & Antoine Griezmann.
"I do not intend to change our style despite some criticisms in recent weeks. Why to change something that has so far worked, we do not even know how to play otherwise.
Each team has their own style, someone can like it or not, but football is a beautiful game because you can win in different ways. My players have certain characteristics and I adapted our tactic to that.
Atletico Madrid probable lineup : Moya – Juanfran, Gimenez, Godin, Siqueira – Gabi, Tiago – Koke, Arda Turan – Griezmann, Mandžukić
Unlike domestic coach, The Los Blancos boss, Carlo Ancelotti is having many problems with injuries. During the week Real Madrid defeated Sevilla 2-1 and strengthened the first position, but at the same time Ancelotti lost Sergio Ramos, James Rodriguez and Marcelo who will miss Atletico because of suspension. From earlier a key player in Real Madrid midfield Luka Modric is still injured and on medical treatment in Germany, but the good news for the Italian coach is a return of Cristiano Ronaldo who served the 3-match suspension.
Cristiano Ronaldo is back after a two-game ban in time to face Atletico Madrid in a crucial La Liga match this weekend.
– We have problems with the injuries, especially at the back where Pepe and Ramos both are our. Raphael Varane and Nacho Fernandez will start and I have a full confidence in them.
– I wont complain to much and I will focus to the players on which I can count on, not the ones I cant, said the Italian coach, Carlo Ancelotti.
Real Madrid probable lineup : Casillas – Carvajal, Varane, Nacho, Arbeloa(Coentrao) – Khedira, T.Kroos – Bale, Isco, C.Ronaldo – Benzema