The biggest surprise this season in Champions league and La liga, Diego Simeone's Atletico Madrid welcome at Estadio Vicente Calderó, Jose Mourinho's men looking to seal a deal already in the first match of the Champions league semi-finals.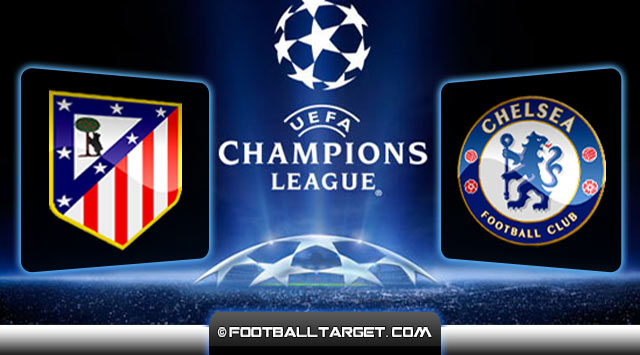 The first semi-final match somehow looks less attractive than Real Madrid vs Bayern Munich, but that does not mean that we wont see a great matches between two great quality opponents who might eventually and take the trophy.
After all, so far this season they have shown a lot, and in the national championships both are in a race for the title. Last weekend's Atletico made ​​a new step towards that goal with a home win, while Chelsea made ​​a big step backwards with a domestic 2-1 defeat to Sunderland. Until now, these teams have met three times.
Twice in the Champions League back in 2009 and then in Madrid was 2-2, after Chelsea in London celebrated with 4:0.
They played in the Super Cup in 2012, and then at a neutral venue in Monaco, Atletico smashed the London side, with 4-1.
Atletico Madrid are closer to one major goal, which is to win the Spanish La liga , where in competition with two giants Barcelona and Real Madrid they are on the right road to do so.
Four more rounds are left until the end of the season and Simeone's men expects two difficult games , but before that the Champions League semi-finals awaits them, where Atletico Madrid also wants to go to the very end .
If they were able to eliminate Barcelona, they really have the right to be optimistic , although it certainly was felt fatigue with players as Simeone doesnt have a big bench as other teams have . On Friday they played against Elche at home and had a hard time to get to victory . Atletico absolutely dominated on the field, they missed a series of opportunities, and even a penalty that David Villa took.
Still, their siege at Elche goal, in the end has succeeded and Atletico with two late goals manage to get so wanted win with which they remained at the top having 4 points more than the second placed Barcelona and five more than Real Madrid who have a game less played than both of them.
Simeone expects Costa exit
Atlético Madrid manager Diego Simeone said he 'wouldn't be surprised' if striker Diego Costa—who has scored 35 goals in all competitions so far this term—leaves the Rojiblancos in the summer. Atlético meet Chelsea at the Vicente Calderón for the Champions League semi-final first leg on Tuesday.
Garcia: I am 'not scared' of Chelsea
Atlético Madrid midfielder Raúl García said he 'does not fear' Chelsea before the Champions League semi-final first leg at the Vicente Calderón on Tuesday.
Raul Garcia could jump in the first lineup instead of Adrian , which will be the only change , with the return of Arda Turan, who will likely start on the bench for the reserves .
And while Atletico made ​​a step forward towards their league title , Chelsea totally unexpected on Saturday made ​​a big step back and chance of winning the title is very low, especially as in the next round Blues travel to Liverpool, where most probably we will know who has the biggest chance to become a new champion.
Chelsea had it all, they played at home, and the Blues even taken an early lead againt probably the relegated team, Sunderland, but Borini trough a late penalty has shaken the Stamford Bridge and put the fans in disbelief . It is true that Chelsea have been harmed by the referee, however , the Blues having a much more better team had to finish everything before the end.
Hazard doubtful for Atlético clash
Chelsea attacking midfielder Eden Hazard missed Chelsea's open training session in Cobham, Surrey, on Monday but the club are hopeful he will recover in time for the Champions League semi-final first leg at Atlético Madrid on Monday. The Belgian international is struggling with a calf injury picked up in the second-leg of the quarter-final win over Paris Saint-Germain 13 days ago.
Now in a very bad mood Chelsea coming to Madrid . Coach Mourinho returns to Spain to try to get revenge for the defeat in the Cup final when Atletico Madrid stunned Real Madrid . However , there are a lot of weaknesses in the game of Chelsea this spring .
Torres ready to face old club
Jose Mourinho finds himself in the Champions League semi-finals again but Atletico Madrid hope to make sure he fails to progress from this stage for the fourth season in a row.
If he does progress to the final, he'll need Fernando Torres to be back to his best form against a side he played for and supported as a boy. Mourinho realises Torres' love for Atletico Madrid but believes he'll want to do his best for Chelsea.
They lost their games at Aston Villa and Crystal Palace , as well as one in Paris in the quarterfinals of the Champions League . Very poorly they played against Sunderland , and will have a lot of problems , because Hazard still is not recovered , and Ivanovic due to suspension it out.This means that Azpilicueta probably will start on the right flank , while Ashley Cole, will be on the left .
Team Probable lineups
Atletico Madrid : Courtois – Juanfran, Miranda, Godin, Filipe – Tiago, Gabi – Raul Garcia, Koke – Villa, Diego Costa
Chelsea : P.Cech – Azpilicueta, Cahill, Terry, A.Cole – David Luiz, Lampard – Willian, Oscar, Schurrle – Eto'o
Match Prediction : Atletico Madrid are on the run of 8 straight wins in La Liga, and they have a home advantage ahead of game with Chelsea. First match is important, and Simeone's men know that. They will go for a win here, and Chelsea looks like doesn't have what it takes to stop them at this moment. Atletico Madrid to win, for which Bet 365 offers a good 2,00 odd.