April 3, 2012 2:45 PM EDT
Camp Nou — Barcelona
The strongest , most famous,and the most speculative pair of Champions League quarter-finals expect us this Wednesday at Nou Camp, in the match after which, one football giant will be knocked from Champions league..
Barcelona was more agile,dominated, but failed to reach a goal. Milan  threatened from the counter, pulled themselves after the first half from Barca's half, but it would be not inaccurate to say that on several occasions only luck saved Barcelona.
But now all things are moving  to Barcelona at Camp Nou, where Barcelona will be stronger for nearly one hundred thousand heads and hearts which will beat for their victory. Catalans when they play their tiki-taka,are nightmare for their opponents, as they hide the ball and they are capable of playing with countless small passing,holding ball until they  find a gap in the opponent's formation.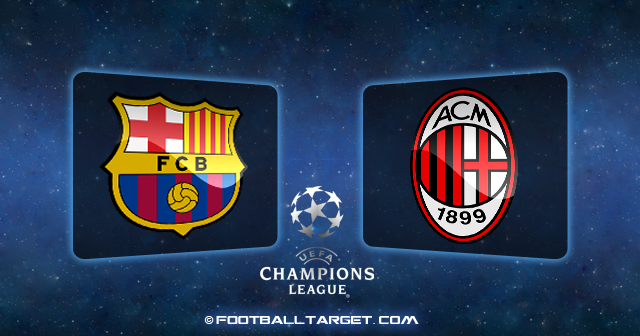 Then rapidly move into attack which rarely ends with no goals. Italian teams are known for their discipline and granite defense, if Milan can keep all 90 minutes concentration, maybe then,they can through Ibrahimovic  and Robinho score some goals they need?
Milan coach Allegri believes that they can,and  Barcelona's  strategist Guardiola belives he has a  key to lock of the Italian team.
This will be the fourth time that Barcelona and Milan are playing in this season's Champions League. Spaniards have one win and two meeting ended without a winner. Rossoneri with  victory in Barcelona,or even a draw with some  goals, better impression and results Which Barca achieved so far ,then make so irrelevant.
In their national leagues  Barcelona and Milan are in a vibrant race for the titles. Italians are in some better position, opposed to Barcelona who is trailing  six points behind Real. In this match,Barcelona will be  favorite, and Milan must make maximum effort at Camp Nou to get result they need,when Barca  magicians Messi, Iniesta, Xavi and others start to dance with a ball. Who of the giants will get knocked up,and who remains in the race for the finals in Munich will se this Wednesday and you can watch live from out live stream section.
Milan coach,Massimiliano Allegri is having some problems due the absence of their best defender Thiago Silva,but he is relief that Alexandre Pato got the green light for this match,and he is back in team squad after being missing for injury.
Barca coach Pep Guardiola is aware of AC Milan's quality,and he hopes that regret a goalless draw in the San Siro,would not be something they regret after this match.
"We knew Milan's quality and not scoring in the away leg is a bit damaging for us," he told Italian television.
Barca captain,C.Puyol think the same :
"In the second leg we'll go out to win as we always do and we have the advantage of trying to do so at home," he said.
"If we want to get through we will have to play an excellent game."
AC Milan coach Massimiliano Allegri
"We must play as we did in the opening leg and make sure we don't concede a goal," Allegri said.
"This game is like a final and we are ready."
"I expect the strongest Barcelona side," he said. "Barcelona remain the best team in the world.
"But I believe there will be two or three situations during tomorrow's game where the tie could be decided and we need to be smart to interpret them well.
"I am confident we can score a goal."
Team news : Brazil forward Alexandre Pato got the green light for this match,but his  fitness is doubtful.After resting at weekend Alessandro Nesta and midfielder Clarence Seedorf are set to return for first eleven.
Due the muscular injury,Xavi could be replaces with Cesc Fabregas.
Since 2009,Barcelona havent lost at Nou Camp in European competionts,and they are currently on the run of 52 unbeaten games in all competitions playing at home,at Nou Camp.
PROBABLE LINEUPS:
Barcelona :
Valdes;Dani Alves, Mascherano, Pique, Puyol;Xavi, Busquets, Iniesta; Cesc, Messi, Sanchez
( Xavi – Fabregas; Fabregas- Pedro)
AC Milan : Abbiati ;Bonera, Nesta, Mexes, Antonini ;Aquilani, Ambrosini, Nocerino, Boateng;Ibrahimovic, Robinho
Prediction:
If someone is good at learning from their mistakes,its Barcelona.This match they will be playing at home pitch which suits them for their short pass combinations,called tika-taka.AC Milan must at least score a goal to have some chances of passing trough to next stage of Champions league,but even result from the first match its on their favour this its going to be a pretty hard for them.How to open up against Barcelona,when we all know what Barcelona is capable of.For sure,Barca will have great percent of possession,and its up to them how this match will end.No doubt,Barca is favourite here,and have a great deal of advantage of home pitch,so Barcelona to win,or to score more than one goal.What do you think ?