Estadio Vicente Calderón — Madrid
Match : Barcelona – Athletic Bilbao preview,live stream
Copa del Rey
May 25, 2012 4:00 PM EDT
This is definitely a last clubs game of season when the best European football is at stake. According to many, the game is even too late, or even better said too close to the Euro 2012, because the teams started to gather already, and even playing friendly matches.
Perhaps the Spanish are so confident in its quality, not to consider this as some big problem.In Spanish King's Cup final this Friday will play two attractive teams which this season have shown a lot of things.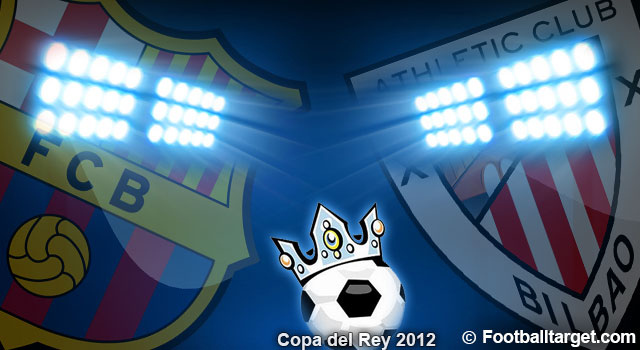 Athletic was the most pleasant surprise of the European league, while Barca still disappointed because they did not won any trophy, but they definitely played a beautiful and attractive football.
The finals will be played in Madrid on "Vicente Calderon", so Athletic should have more fans. Interesting thing about this finale is that the Basques and Catalans meet, and we know that they are not exactly for the king on which the Cup is named.
This season, they met twice and in Bilbao was a draw, while at the Nou Camp Barca celebrated with a 2:0.
Season that is behind us for Athletic was very successful, but in the end they may even be the biggest losers in Europe, the course with Bayern Munich.
If someone offered to them before the season two finals, they would surely accept it. Thus they play nice, attractively attacking, they picked up a number of sympathy, and then lost quite smoothly finals of the European league, while in the Spanish league at the expense of it, ended up somewhere around the middle of the table.
True, they secured new participation in the European league, thanks to the finals, but now just that does not satisfy them. When they have been in two finals, they want at least one trophy and this is theirs last chance.
Unfortunately for them, and the opponent wants a trophy, and the objectively is stronger and better. This is for "Basque Pride" only additional challenge and motivation will not be missed. The bigger problem is the form that has experienced a large drop in the finish of the season.
Without a victory they are in four last games in Liga BBVA, although they played with a combined composition, and final of the European league has revealed many problems. It is good for them that coach Bielsa has no problems with the composition regarding injuries.
Athletic Bilbao probable lineup: Iraizoz – Iraola, Javi Martinez, Amorebieta, Aurtenetxe – Iturraspe – M.Susaeta, Ander, Ibai – Iker Muniain, F.Llorente
Barcelona in contrast to the opponent even in their ugliest dreams did not expect the end of this of season like this. They play King's Cup final to save the season, because all the other opportunities to win trophies they miss.
The cup is supposed to be only the possible additional prize after the Spanish championship and the Champions League they would already won. However, football is a game full of surprises, and Barcelona felt it especially in the Champions League, where Chelsea eliminated them in a manner that for a long time would be retell.
Loss in La liga is not someo sensation, as Real is not worse than Barcelona, so it remains only a cup. In Barcelona they are aware that Athletic is not naive, and to Messi and the company the "Cap is already full" of everything.
In addition, they have devoted themselves a lot to farewells with Pep Guardiola for whom this is the last game on the bench, which again can be a special motive. Sure they want and the 14th trophy in his era, although problems with injuries for them are very present.
Injuries follow them all season, and now is the culmination, which is again logically after the huge number of games they played. Striker David Villa is long out of the machine, as well as Abidal, and new problems are injuries of theirs captain Puyol and Dani Alves who last arrived on that list. If nothing else, Messi is completely healthy.
Barcelona probable lineup: Victor Valdes – Mascherano, Pique, Adriano – Busquets, Keita, Xavi, Iniesta – Fabregas, Messi, Pedro
Prediction : What else to expect from this game than to be a very dynamic and full of excitement. No matter what it is the final game of the Cup trophy, these two teams this season always play attractive. Some of them even compare them, in terms of beauty presented by the game, and this then means guaranteed goals galore.Over 2,5 goals.
Watch this match live from our live football stream section,and watch match highlights and full match video after the match.