El Clasico – the most anticipated match in Spain, and on the biggest derbies in world is on schedule this Sunday night at the Camp Nou.
La Liga
March 22, 2015 • 20:00 • Camp Nou, Barcelona
Referee: Antonio Miguel Mateu Lahoz
Barcelona – Real Madrid Live Streams
Match Highlights & Full Match Replay – available after the game end
Spanish El Clasico is always a special game, and today receives additional weight because it could offer some answers to questions about the new Spanish champion.
Barcelona during the most part of the season was behind Real Madrid, at some point, five points, but Real fell into a crisis, after having a strike of 22 wins. When the Croatian midfielder Luka Modric suffered an injury, Los Blancos form started to drop, while on the other side the Catalans have found the right form, and in today's derby enter with the point of advantage, which could strecth to big four if they beat Carlo Ancelotti's side this Sunday.
Blaugrana recent form is great, six consecutive victories in all competitions. Led by superb Lionel Messi, Barcelona cliched the quarter-finals place of the Champions league where they will play against PSG, again. With two wins over Villareal, Barca sealed Copa del Rey final, while in La Liga they surpassed the Los Blancos and jumped to the top. The only downside for the Catalan team is the fact that this week the Catalans had to play the second leg match of the Champions League against Manchester City, which they won 1-0 thanks to Ivan Rakitic who scored the only goal with a lob on Messi's brilliant assist.
On the other hand Madrid had a whole week for the El Clasico preparation , but the form in which the club from Madrid is notso promising.
The series of three games without a win was finally ended in the last round against Levante, but with a 2-0 win no one was thrilled.
Enrique: 'These are special games'
It's a derby match, no one can be a favourite in El Clasico, anything can happen, said Barca boss Luis Enrique, and then added, playing the ball down: "It's only a one game, it won't decide the next La Liga champion."
"As for Real Madrid, there is much talk about the various problems in that team, but I do not bother with that, I analyzed our rivals in the football aspect."
We want to play a match on the way as we have played in recent months, to control the match rhythm, ball possession, to creat more opportunities than our opponent and to control the emotions so we don't unnecessary rush our game, concluded Barca coach, while defender Gerrard Pique added:
"This is one of the most special games of the year, because of the rivalry between us and because we're usually playing for titles against them," he told Barca's official site.
"They're another great team, with great players and that makes it so much more special. You have to prepare several days in advance, but it's always a game you're really looking forward to."
Ancelotti admits Barcelona's form is better ahead of El Clasico
A lot recently was talked about Real Madrid's bad form, but as the Clasico approached it seems that everything related to that started to be less important, so that the Italian coach on Real Madrid bench, Carlo Ancelotti only talked about today's derby:
– I do not want to run away from the fact that Barcelona is in a better series than us, but our situation is not so hopeless. Already with a victory in the derby we can go back to the top.
– As usual I expect the meeting of two great quality rivals that have a slightly different style of play. Our goal is to play in our distinctive way and to be better in all phases of the game. We must finally show the personality and character on the big stage!
The Los Blancos striker Karim Benzema added:
"We can repeat the result from the first half of the season. We're in good shape to win and put in a performance like the one we put in.
"We're Real Madrid. To score again like I did in our first meeting of the season, I need a bit of luck and nothing else."
Team Probable lineups
Barcelona unavailable players: Vermaelen, Busquets?
Real Madrid unavailable players: Coentrao, Khedira, James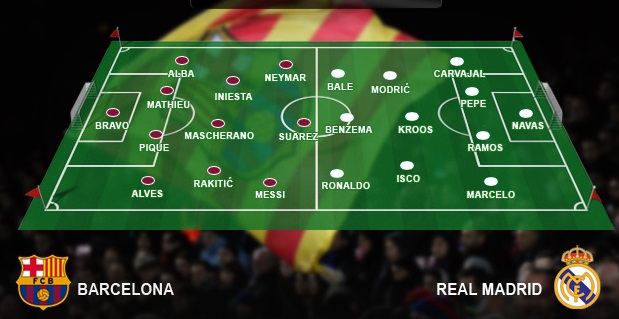 Match prediction: Given the recent good form of Barcelona, it should be a home win. So back up Barcelona to win at Bet365 and claim your 100% bonus.