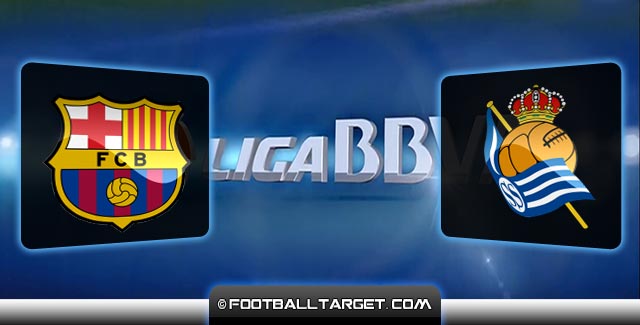 La Liga
May 9, 2015 • 17:00 • Camp Nou, Barcelona
Referee: Ignacio Iglesias
Barcelona – Real Sociedad Live Stream
Barcelona this Saturday welcome Real Sociedad, looking to enter new three points and make a step closer in the Spanish title race.
Barca at the moment seems unstoppable that's obvious to anyone. Messi, Suarez & Neymar are in form and Barca deadly trio is making a lot of problems to any team which stands on their way. From a total of 162 goals that Barca have scored this season this trio scored an incredible 111 of them. But with a lot of goals, Barca defense as well looks on the top level. The last time when Barca conceded a goal was back in April against PSG.
Only one draw (against Sevilla away, 2-2) and 15 wins suggest that Real Madrid doesn't have a lot of chances of surpassing Enrique's side and that Barcelona most likely will be the new La Liga winner.
Not only that, but Barca are in final of Copa del Rey while with a 3-0 win over Bayern Munich the Blaugrana have made a huge step towards reaching the Champions league final.
This Saturday, Barca faces an easy task as on the other side, Real Sociedad's away form is one of the worst in league. Only one win in 17 games, suggest that Messi & company will enter new three points easily.
Still, Luis Enrique Martinez is trying to calm the euphoria:
– I have to admit that we're playing really well, but we have to calm down this euphoria, because we still have not won absolutely nothing. Before the match with Real Sociedad I'm optimistic and confident that we will win all three points.
However, at the same time I am very cautious. Real Sociedad is one of the few teams that managed to beat us this season, and that have to a warning for us. Victory would be another step closer to the title, and that is our only goal!
The match against the Bavarians due to injury missed the French defender Jeremy Mathieu and he is now again the only player on which Luis Enrique can not be count.
On the same way thinks and Andreas Iniesta:
"We shouldn't start thinking that nobody can beat us," Iniesta said after the Bayern win."
"We have to keep doing this. If we stop, there are other very good teams and when you least expect it, they can beat you."
With a home 3-0 win over Levente, Real Sociedad ana mathematically secured their place in La Liga competition next season, but in some crazy scenario it's possible that David Moyes' team reach and Europa league place until the end.
The English on the bench of Sociedad is very optimistic ahead of game against Barca.
"If we managed to beat Barca at home, I do not see why it would not be possible to the same and at Camp Nou."
"Of course, they are the favorites, they have Messi who is the player that it can not be kept."
"However, there are days when he is not on the top level, and I hope that the fatigue will affect Barcelona. We on the other hand have to play at the peak of our abilities in order to make a miracle at Camp Nou.
David Zurutuza is the only player who will miss this clash, due to injury.
Team Probable lineups
Barcelona: Bravo, D. Alves, Pique, Mascherano, Alba, Rafinha, Busquets, Xavi, Messi, L. Suarez, Neymar
Out: Mathieu
Real Sociedad: Rulli, De la Bella, I. Martinez, M. Gonzalez, C. Martinez, Pardo, Bergara, G. Castro, Granero, Xabi Prieto, Vela
Out: Zurutuza