Marca reveals that this summer from Tottenham comes Gareth Bale. News like the exclusives is bringing a TV show Futboleros Marco. The price is reportedly 40 million Euros. Redknapp denies any sale of Welsh player …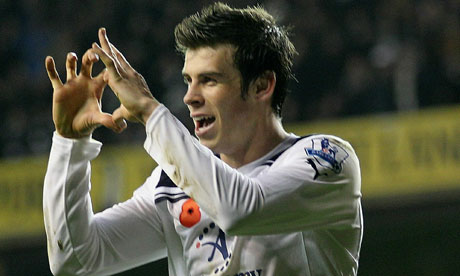 Although Chelsea and Manchester City have entered into an open battle for fast flee Welshman, it appears that Barcelona was a bigger bait to him.
As an ardent followers of players transfer market know, the love between Barca and Bale is not from yesterday – after Gareth Bale last season brilliant performances for Tottenham (especially in the Champions League), at the Nou Camp he was selected as the first target for left-side reinforcements, the team's weakest part, which was best seen in the games against Real Madrid and Chelsea, where Barca lost the chance to defend the Spanish and European title.
But it seems that this is all possible journalistic fabrication, since Redknapp this morning at a news conference, said:
"I do not know anything ."
"I would not say that there is the slightest bit of truth in it. No way," said Spurs boss and continues:
"Bale is going? Probably not!"