At first glance this is a very attractive match, however, in reality only one from a last round of Champions League, in which one team is totally indifferent, while the other,Benfica needs points necessary.
Barcelona secured a top spot in the group and therefore in this match will be relaxed, while Benfica only with a victory can secure placement in the next round and not have to listen a match result from Glasgow.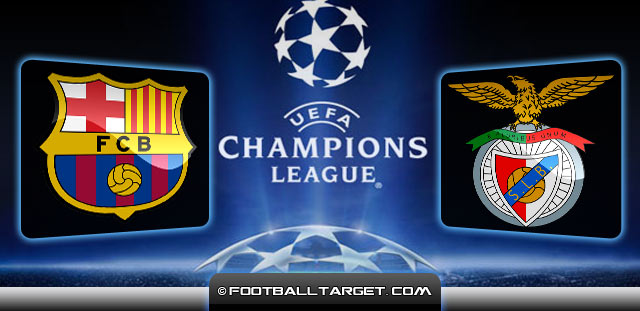 In the first game between these two teams in Lisbon, it was 2-0 to Barcelona and Benfica in the previous three matches against the Catalans, did not score a single goal.
It is interesting that both teams last defeat have suffered in the Champions League, after which they entered into a long winning streak which is still ongoing, and will end for one team in this match.
Barcelona except the Champions league first place in group,in domestic competition Barcelona is also a first placed team,with a big gap in relation to second placed Atletico Madrid or even more to third Real Madrid.
Tito Vilanova´s team is playing as we use to ,very good and good results are following them.For this match,almost complete second team of Barcelona will play,except Lionel Messi who is on hunt to make history,by surpassing G.Muller and for that Messi needs two more goals.
`It's not about records for goals – the main thing is to win. He is the same as always. He always wants to play and he is in his best habitat when he is playing.
"I'm excited that he plays, and for us it is always better."
"There are players who are coming off injuries and this match will be perfect. It will be great motivation, for sure. Also, they are all professionals and always give their all."
Barcelona probable lineup : Pinto – Montoya, Bartra, Pique, Adriano – Song, Alcantara, Roberto – Tello, Messi, Villa
As for Benfica available team,coach Jesus But Jesus will be without injured midfielders Eduardo Salvio (ankle), Enzo Perez, Carlos Martins and Pablo Aimar for this important match.
Benfica probable lineup : Artur – M.Pereira, Luisao, Garay, Melgarejo – Matić – Salvio, Bruno Cesar, C.Martins, Gaitan – Cardozo
Match Prediction : No matter what the game is important only for Benfica, Barcelona is the team which will dictate this match.Over 2,5 goals.
Another tip here to take is Lionel Messi to score.
Watch Barcelona v Benfica online from our live streams section