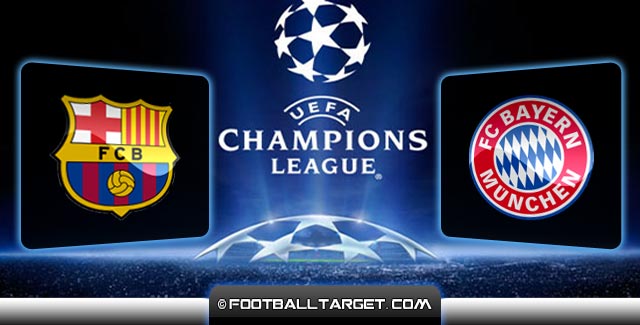 UEFA CHAMPIONS LEAGUE
May 6, 2015 • 19:45 • Camp Nou, Barcelona
Referee: N. Rizzoli
Barcelona vs Bayern Munich Live streams
Watch Barcelona 3-0 Bayern Munich Match Highlights 
On Tuesday, Lionel Messi looked ahead to Barcelona's UEFA Champions League semi-final first leg against Bayern Munich on Wednesday.
Pep Guardiola returns to Camp Nou this Wednesday but on the bench of the injury troubled Bayern Munich, looking to bounce back after crashing out from the German DFB Pokal in the semi-final stage, by Borussia Dortmund. Bayern who rarely is losing any games this season, lost and the second in a row, in the last round of the Bundesliga competition but to be fair, Guardiola rested a big part of his available first team, giving the players a rest for this big clash at the Camp Nou. Bayern already have secured their new league title, while Barcelona who still is "in" for their treble this season have not. The Catalans have three more points that the second placed team, Real Madrid who on Tuesday lost their 1st leg Champions league semi-final match against Juventus 2-1.
Two years ago, under Jupp Heynckes, Bayern and Barcelona have met also in the semi-final stage when the German side dumped out Barca with a dominant 7-0 aggregate result.
Full Press conference of Bayern Munich
Barcelona
It seems that Barcelona timed their form in the best possible way, because team's from is is now superb, and the only question that remains to be solved is will and how much trophies Barca can take this season. Luis Enrique's side is in for the famous treble, La liga, Copa del Rey and Champions league trophy.
A good form of Barcelona probably the best describe their recent results, which say that Barca from their last 15 matches have celebrated 14 times, dropping only two points in a 2-2 draw in Sevilla after having a 2-0 lead. This great form becomes even more solid when we said that Barca in the last 6 games which the Catalans have won, scored impressive 23 goals and conceded only one. It was in the quarter-final stage of the Champions league in 3-1 win over PSG, in Paris.
Enrique does not have any crucial injury problems, Mathieu could be out, Jordi Alba most likely will play, while the attacking trio of Barca – Messi, Neymar and Suarez are scoring in every game which only tell us that an injury-ravaged squad of Guardiola could have a tough time at the Camp Nou.
"There's no favourite. It's an open tie against a great team that has a coach who knows us very well," Barca president Bartomeu told Hat Trick Barca.
"It is necessary to honour Pep and I believe it has to be spontaneous. We won't organise anything. There'll be no video or anything.
"He comes with all the honours but also to win. After the game we can salute him.
"I believe the relationship between Guardiola and the board ended well. The doors of Barca are open when he wants to come back. I think he will one day."
Bayern Munich secured the new Bundesliga title, but Pep Guardiola's men somewhat unexpected dropped out from the DFB-Pokal semi-finals by Borussia Dortmund. Already in the next match Guardiola gave a rest to several players, wanting to avoid any new injury problem, against Bayer Leverkusen.
The result of that was a 2-0 defeat, but Guardiola is not troubled a lot with it after winning already the league title. The good news for the Bavarians is a return of Javi Martinez and Lewandowski who will play with a special mask, while Franck Ribery (ankle) remains doubtful. The bad news for Guardiola is that Robben, Alba and Badstuber are still out.
If someone knows how to play against Barcelona, that's for sure Guardiola who most likely will sent two or three Spanish players on the pitch from the first minute.
Bayern Munich manager Pep Guardiola spoke to the media on his return to Barcelona on Tuesday, looking ahead to the UEFA Champions League semi-final first leg between his current and former clubs.
"My goal is to take Bayern to the Champions League final." said Guardiola.
On the way to the final in Berlin, stands his former team-mate Luis Enrique, as well as a portion of the player's which he coached while he was coach of the Catalan giant.
"Here I have spent 30 years of my life, it's beautiful to be back to the place to which I am bound with wonderful memories, but one thing must be clear; I'm now coach of Bayern and I know that's my job.
"Here I have spent 30 years of his life, the beautiful me back to the place to which I am bound wonderful memories, but one thing must be clear; I'm now coach of Bayern and I know that's my job,
Bayern coach fears of Lionel Messi, who this season himself alone has sank a number of clubs.
"If he'd fit, Messi is impossible to control. I do not know how to stop him, it is practically impossible. However, we can limit him, we can limit his movements on the field. We'll see how we'll do that" said Guardiola.
Team probable lineups
Barcelona: ter Stegen – Dani Alves, Pique, Mascherano, Jordi Alba – Busquets, Iniesta, Rakitić – Messi, Suarez, Neymar
Bayern Munich: Neuer – Rafinha, Benatia, J.Boateng, J.Bernat – Xabi Alonso, Schweinsteiger – Lahm, Alcantara – T.Muller – Lewandowski