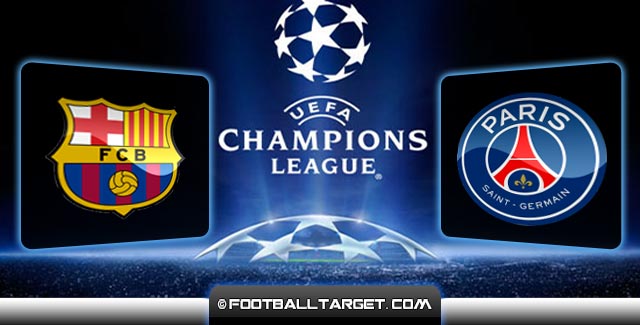 UEFA CHAMPIONS LEAGUE
April 21, 2015 • 19:45 • Camp Nou, Barcelona
Referee: S. Moen
Barcelona vs PSG Live Streams
Without key duo Ibrahimovic and Veratti, PSG lost a home game somewhat surprisingly against Barcelona 3-1, and while that result suggest that the Catalans have already clinched the semi-final spot, boosted by a return of Ibrahimovic and Veratti the Ligue 1 reigning champion, French side are dreaming of pulling a comeback and overturning a two-goal deficit against Barcelona.
Paris this season in the group stage already played against Barcelona and showed that it can be equal, even to beat Barca, but a week ago we watched a different story.
France squad for some time struggling with a number of absences, and while the domestic competition and such decimated PSG too often, for Barcelona it was not enough.
The Catalans took advantage of the numerous injury problems and card suspensions of PSG and on the wings of the phenomenal Luis Suarez came to convincing 3-1 victory which probably will guarantee them a passage to the semifinals.
Both teams in their domestic leagues are in fight for the league title, and this weekend both Barca and Paris celebrated.
Blaugrana, however somewhat more difficult than expected at home with a 2-0 win against a strong Valencia, while PSG away with 3-1 was better than Nice.
This Tuesday, Catalans will host something stronger team of PSG and Luis Enrique knows what to expect:
– Ibrahimovic's returning for PSG, but I think they will play their usual style as always. Ibra and Verratti are important players and I expect that PSG will raise the quality of the game, but regarding the tactics I don't expect some significant changes.
"They were running low on fuel even before the game kicked off. Overall, it's been a great weekend," he explained.
"These players are winners. From the first day I saw that they want to win titles and work hard to do it.
"Now we have to make sure we recover well and see what we can do on Tuesday.
"I only talk about short-term results, that's all that interests us. There's not long to go before we can judge how the team's season has been."
Barcelona head coach Luis Enrique praises Lionel Messi ahead of his side's Champions League quarter-final second leg against Paris Saint-Germain.
PSG are in much better situation than the last week, but that situation is still not an ideal one. Laurent Blanc shall have available today his best players Zlatan Ibrahimovic and playmaker Marco Verratti, but now Thiago Silva and Thiago Motta (both thigh) are doubtful, while the right-back Serge Aurier is suspended for this clash.
PSG boss Laurent Blanc has no intention to give up in advance:
– We will have a very difficult task and I am aware that realistically our chance of passing is minimum.
– The problem is that we need three goals.
– I have no doubt that we will have a chance, but on the other hand, we need to keep our net intact, and against Barca that's practically impossible.
– The positive thing is that we really do not have anything to lose.
– Ibrahimovic particularly loves these matches, and although in recent times he did not play because of suspensions I can see in training that he's maximally prepared and in great shape.
Paris Saint-Germain head coach Laurent Blanc says he regrets the lack of time he has had to prepare his side for their Champions League quarter-final second leg at Barcelona.
Team Probable lineups
Barcelona: Ter Stegen, D. Alves, Pique, Mascherano, Alba, Rakitić, Busquets, Iniesta, L. Suarez, Messi, Neymar
Out: Vermaelen, Iniesta?
PSG: Sirigu, Van der Wiel, David Luiz, Marquinhos, Maxwell, Verratti, Cabaye, Matuidi, Cavani, Ibrahimović, Pastore
Out: T. Silva, Motta, Aurier