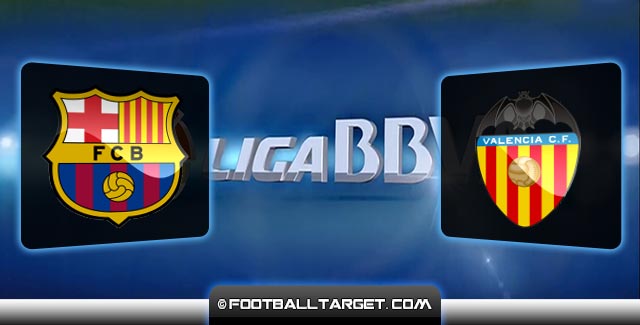 La Liga
April 18, 2015 • 15:00 • Camp Nou, Barcelona
Referee: José Luis González González
Barcelona vs Valencia Live Streams
Barcelona has shown its strength this Wednesday in Paris, but Nuno Espirito Santo believes that the Catalans have some weakness. Barcelona last weekend complicated the fight for the La Liga title in Spain. Catalans had a hard match in Sevilla, they played well and after half an hour they came to two goals advantage. However, Sevilla wakes up until the end and finds the way to level the score to 2-2, which furthers complicates the race between Real Madrid and Barcelona.
Still, the Catalans were not shocked a lot as only a few days later in Paris they smash PSG 3-1. In that match they lost Andrés Iniesta, as they welcome unpleasant side, Valencia, looking to win 3 points, but it wont be an easy task as the visitors are trying to seal the fourth place which leads into the Champions league.
"We are very confident on the back of the results we have been earning this season," said Barca defender Pique.
"We are aware of how difficult it is to have a chance in three different competitions. But we can't have a rest this Saturday against Valencia. It is so hard to keep going, but it is a challenge we can face.
"We have all learned a little bit. We had a lead against Sevilla and then they pulled one back and we let the game slip away."
Barcelona will be without central midfielder Andrés Iniesta for Saturday's La Liga game at home to Valencia because of a bruised pelvis, says boss Luis Enrique.
– This is one of the key matches until the end of the season. We're playing against one of the strongest teams in the league, team which plays great football.
– In particular, I must point out the excellent organization of Valencia in the defense where the opponent has very little room to play. Due to blunder vs Sevilla in the last round we have no room for mistakes and we have to go for the win.
– I hope the full stadium that will carry us to three points, concluded Barca boss Luis Enrique.
Team Lineups – Probable
Barceloana: Bravo, Montoya, Pique, Mathieu, Alba, Xavi, Busquets, Rakitić, Mess, L. Suarez, Neymar
Out: Iniesta, Vermaelen
Valencia: E. Perez
Out: D. Alves, Gaya, Otamendi, Mustafi, Barragan, Fuego, Rodrigo, A. Gomes, Parejo, Feghouli, Alcacer