On the first day of December we will have a big derby match from Bundesliga, and encounter of the teams that in previous years had the final word in Germany when it comes to fighting for trophies. Borussia has had more success, especially the last season when they won the double crown , but this could be changed this season considering Bayern´s great form.
Watch Bayern München vs Borussia Dortmund Live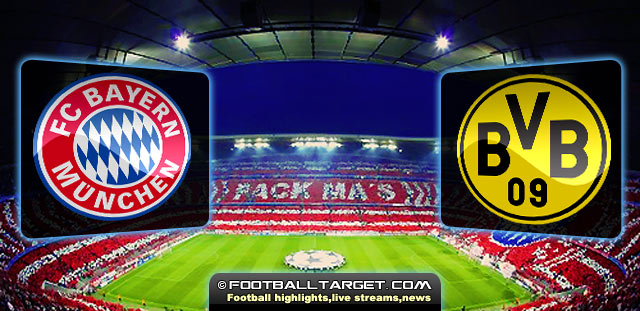 With another failure, Borussia Dortmund once again failed to win three points,this time at home against a weak Fortuna D. Bayern with a victory over Borussia have a chance to almost solve the championship,because the gap would be a big 14 points.
The Bavarians are playing a much better at this point,having even 11 points ahead of the second placed team,Bayer Leverkusen, while Borussia is the third currently. However, this situation happened and the last season, when the Millionaires from Dortmund,after victory in Munich have completely turned the season,and in the end surpassed Bavarians and won the championship.
It was then 1:0 for "Millionaires", and the same result was in Dortmund, while Cup finals they celebrated a 5:2 victory. At the beginning of the season these two clubs played the Super Cup and Bayern Munich won with 2:1, which was the first triumph of Bayern after five consecutive defeats from Borussia.
Bavarians have scored by far the most goals, and they were a really impressive against Hannover which they defeated with 5-0.Bayern has conceded by far the least goals,so, for the first half of the season only a victory in this match is left on their " to do list".
Searching for a weak point, only a defeat suffered at home from currently the second-placed Bayer Leverkusen, and the Champions League matches against Valencia were in both matches the Bavarians have not had so easy games,could be point out as some of their weaker games.
So, stronger opponents can make problems to them,and Borussia it certainly is.
Luiz Gustavo and Robben due to injuries will miss this game,while Mario Gomez is recovered and probably will play from the start.Schweinsteiger who missed the game against Freiburg,returns for this match, which means Shaqiri will be on the bench.
Bayern Probable lineup : Neuer;Lahm, Dante, Badstuber, Alaba;Javi Martinez, Schweinsteiger;Muller, Kroos, Ribery;Gomez
Good news for coach Klopp is that Gotze and Hummels will be ready for this match, while Gundogan will be in competition, but on the bench. For good results they will need an appearance like in the Champions League in Madrid and Manchester.
Borussia Dortmund probable lineup : Weidenfeller;Piszczek, Subotic, Hummels, Schmelzer;Gundogan, Kehl;Kuba, Gotze, Reus;Lewandowski
Match Prediction : In addition to home-field advantage in favor of Bayern is the fact that they can be completely relaxed due to large points advantage. That does not mean the Bavarians do not want to win this game,because they want. Borussia doesn't have any reason for some defensive approach so that they will rush to win.All this means that we could see a lot of goals.Over 2,5 goals.