In May, 2013., Bayern have played the best football and were the best team in the world that have won everything there is to win and the team that destroyed the most powerful generation in the history of Barcelona with 7:0.
A year later, Bayern have even more better soccer players, but Bavarians are not deadly anymore and will not defend their title in the Champions League after losing with a total score of 0:5 against the Spanish side, Real Madrid in the semi-finals.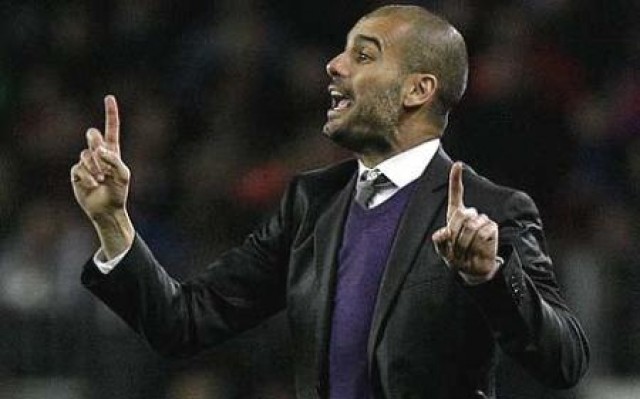 Screenshot: youtube
Watch Bayern Munich 0-4 Real Madrid Highlights
Embarrassed Bayern Munich?
For years, Bayern grew, team experienced severe defeats, financially strengthened, and again became a football force.
In order to prove to everyone that Bayern returned to the top football elite, the club began to "scramble" the players of Germany's largest rival Borussia , and totally unnecessarily to pile up the number of players in their team.
But that was not enough, Jupp Heynckes despite their trophy was not enough a big name, so they brought Pep Guardiola, a coach who with Barcelona has won fourteen trophies and coach who was the most wanted at that moment.
Now, because of these decisions they are suffering..
Guardiola : I'm guilty for Bayern defeat
"Everything happens in football from playing well," Pep said told reporters. "I've have had several hard defeats in my career and this is one of them.
"We conceded goals from set pieces, but we played awful, it's the only reason we lost. There's no other reason, it's just football.
"When you are playing bad, you concede a lot. We came out very energised, it was a back-and-forth game, we could have scored with our chances, but we didn't. Us playing bad is the only one explanation for this defeat."
Speaking of their latest results in Champions league, Guardiola recalled to Arsenal and Manchester United.
Of course we are disappointed and sad after such a defeat. We lost and I take full responsibility for it. What we did against Arsenal and United, tonight we did not.
Even in the first leg in Madrid we had more control and few real chances. Tonight we hadn't and that's why we lost. Football is played with the ball, and we did not play when we had the ball. It is my responsibility and my fault.
I was wrong in some tactical ideas. Congrats to Real Madrid on a great victory, "said Guardiola, whose team had nearly 70 percent of the ball possession, but was still beaten.
Guardiola has not learned anything from the first game in Madrid
Real in the second leg semi-final of the Champions League stormed trough Munich, after the first game the Spanish side won with only 1:0.
Only with 1:0, because Bayern in Madrid was harmless, and Ronaldo and Di Maria front of their fans missed to finish off the Germans.
Guardiola in a week has corrected nothing. Again he sent the same team to the pitch without Martinez.
The recipe which in Madrid proved to be a fatal one as Bayern conceded a goal over the right side which has kept Rafinha, a player for whom Martinez was on the bench. In Munich, he decided to attack Real although the whole football world assumed that Bayern will be punished from the counter-attack.
And Pep Guardiola again made a same mistake. Rafinha was on the right and Martinez on the bench. First -half showed what troubles will have Bayern, as Real Madrid with a few counter-attacks was punishing the Pep's tactic. Going three goals behind at the half time, was enough to eliminate the German side, and Pep again, like in Madrid changed his tactic. Martinez came in, instead of Bayern's only striker Mario Mandzukic.
Guardiola in fear of failure "kept" the score 0:3 ?!
It should come as a surprise if at the following matches of Bayern we see banners of disgruntled fans who will seek Guardiola's departure or at least the end of the era of tiki-take in their club. Simply, this kind of game is not for Bayern and for the German clubs.
From the team that was powerful after taking corners and free kicks, Guardiola has made a team which to Real Madrid have not threatened from even 24 corners, and yet Bayern Munich conceded two goals after a corner kick and the free kick. Incredible!
Just as incredible is that Guardiola afraid for his position has "kept" the score (0-3) at the second half. The only real striker on pitch , Mario Mandzukic was left in the locker room, and Javi Martinez is sent in instead to save Bayern from a debacle. Later on, Guardiola threw in Mario Gotze and Pizzaro, but it was too late, and Real Madrid trough Cristiano Ronaldo scored and the fourth goal.
"Robbery" invisible, Modric and Alonso in midfield outplayed Bavarians
Bayern Munich wingers duo Riberry – Robben was practically invisible. Daniel Carvajal and Gareth Bale closed the right side and stopped the French, Riberry, while on the left side, Robben was something better, but still he didn't seriously threatened to Casillas.
Bayern's midfield was outplayed from Modric and Xabi Alonso, who did a brilliant job on the defensive part and were offensively good with their precise crossed to Ronaldo and Bale in the counter-attack.
It will be the first Real Madrid finals after twelve years and the first opportunity for a historic tenth title, which Xabi Alonso will miss due to cards suspension.
What's next for Bayern, and how they should proceed ?
Guardiola suffered the worst defeat in his coaching career. Defeat which the leaders of Bayern might forgive, but fans will not. Especially if Borussia Dortmund, who recently destroyed the Bavarians in the championship with a 3-0, does the same in the final of the German Cup.
Maybe then the Bavarians could recognize their mistake and turn to a new coach who on the best way will use the phenomenal players that Bayern have, just the way as Heynckess did.
And Guardiola? Um, Tata Martino probably will be fired as Barcelona will finish the season without a single trophy, and Barca need the old Pep…