April 17, 2012 20:45 PM EDT
Allianz-Arena — München
Match Preview : Bayern Munich – Real Madrid ,Champions league
With this game begins a final showdown when the Champions League is at stake.The are left four very quality team and indeed all things are possible, especially in this duel, which is still one step better and more interesting than the other semifinal,if we concentrate on current teams it self,not to history.
The very names of clubs,speak enough, considering that in their leagues they are the most successful clubs in regards to number of trophies they have won, and in Europe they have won a lot. In the last few years  this teams does not manage to go to the very end, so this adds some extra charm in this match.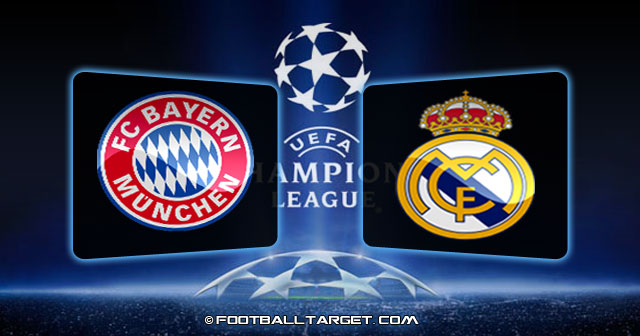 As for the former mutual matches immediately strikes the eye the fact that Real has  not won in Munich in recent history, more precisely since 2000, and he  played six times in Munich. Last time, in 2007, Bayern won with 2:1.
Once it became clear that they will not succeed to "recapture" the title ofBundesliga champion from Borussia hands, Bayern all  power  can now  turn to matches against Real Madrid, or more precisely, to this first leg from on which will depend many things. Last Wednesday was definitely hoping that I fell to the turning point in the Bundesliga finish,because they have lost the direct duel in Dortmund.
Last Wednesday was definitely fell their hope that they can overcome Borussia and reach the first place, because they have lost in theirs direct duel in Dortmund,where Borussia won 1-0 (Full match Highlights).
The way in which they lost, with missed a penalty in the finish, only shaken them further, and that they surrendered, has shown a Saturday game against Mainz on the "Allianz Arena". The coach Heynckes sent into the match mixed lineup, so on the bench stayed ,Lahm, Ribery, Kroos and Gomez.
So on the right side played  Rafinha,on the left Contento, Alabama was pretending to be  Ribery and Olic to be Gomez. The result was a very modest party and Bayern's first home draw this season and without a goal.
This season it happened to them already , but this poorly they hasnt played in front of their fans. Only in the finalof the  game they were a little startled, but until then, all the first players came into play. Against Real Madrid of course, will be no experimentation, as they have not any injuries and no suspender player, so all the best going into the field.
Bayern  probable lineup: Neuer – Lahm, Boateng, Badstuber, Alaba – Schweinsteiger, Kroos – Robben, T.Muller, Ribery – Gomez.
Real Madrid this Saturday has also played a little with nerves of their fans,but they have not lost the chances for winning La liga.However, it is difficult to be fully motivated when on the Santiago Bernabeu comes fSporting Gijon, team which has already been dropped from the league.Interestingly, Mourinho did not experimented too much with composition and resting big stars.
They played almost all, except Xabi Alonso who was rested due the suspension,so Sahin replaced him, while Higuain changed Benzema and Callejon took the place of Kaka. But this didnt look so good,when Sporting took the lead, and although Real Madrid managed to equalize until the half,Benzema and Di Maria had to come in to increase pressure, but resistance of Sporting they have only brake 15-minutes prior to the end and again Cristiano Ronaldo was the key player here.Real in the end won this match with 3-1 ( Full Highlights )
It is quite certain that they spend physically more than they have planned, and this wasnt a good time in front of match Munich, followed by the "El Clasico". What is good is that no one is hurt and they have no suspended player, so Mourinho can also,sent only the very best to the game.

How will look the first team for this match,its not difficult to imagine except of couple of dilemmas. The defense will certainly be the same, but it is questionable whether will start Kaka or Di Maria. Ozil and Khedira should be the starters, because they know very well opponents, considering that they were played in the Bundesliga.
Real Madrid probable lineup: Casillas – Arbeloa, Sergio Ramos, Pepe, Marcelo – Xabi Alonso, Khedira – Ozil, Kaka(Di Maria), C.Ronaldo – Benzema
Match Prediction : Both teams in the strongest bands, so there is no alibi for the failure.Real is obviously not playing a year in Munich, where does notmanage to win, but because every time the aforementioned six matches scored one goal. We believe that this can be repeated andthis time, and it automatically makes Bayern in more offensive.Therefore it is very realistic that the "Allianz Arena" We see a lot of goals.
Watch Bayern Munchen 2-1 Real Madrid HIGHLIGHT
Watch match Bayern – Real Madrid live from ours live stream section.