Bayern Munich who has lost last year's final at the Allianz Arena against Chelsea have made it to the finals again this year. They have yet again impressed the football world and once again they are on only one step to win the prestigious trophy which they won last time in 2001.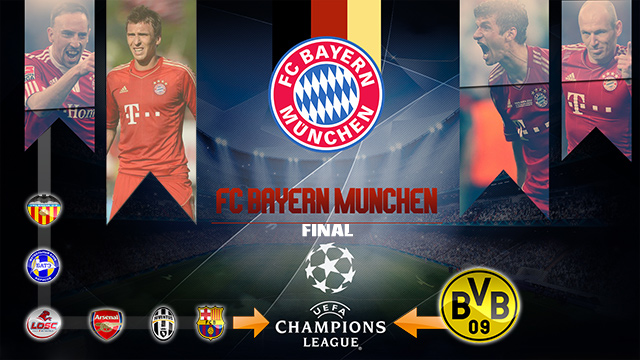 Bayern Munich Incredible Road to Champions League Final Wembley 2013 started from the group stage where they faced Valencia, BATE Borisov, Lille. They were outstanding and topped group F after beating Valencia 2–1 (H), BATE Borisov 1–3 (A), Lille 1–0 (A), Lille 6–1 (H), Valencia 1–1 (A), BATE Borisov 4–1 (H).
Round of 16
In the Round of 16 Munich faced Arsenal who were a tough opponents but Munich kept their confidence and won the tie 3–3 on away goals. German side won the first leg 3–1 (A) but Arsenal gave them hard time in the return leg at Allianz Arena 0–2 (H).
After moving to Quarter-finals Bayern faced much improved side Juventus who were eager to lift the trophy at the Wembley. Bayern Munich who had a stunning perfomance in domestic league this season, saw Juventus as no challenge as they won the Quarter 4–0 (on aggregate). In both legs Munich defeated the Italian side with 2–0 (H) & 2–0 (A).
Bayern Munich had high spirits going into the Semi-Finals where they faced Barcelona who were struggling in Europe after they got close to elimination against AC Milan. The Spanish Powerhouse wanted to win the European Cup after Pep had left the club and agreed to join Bayern Munich next season.
But, the Bavarians were supreme side and they did a remarkable job beating Barcelona 7–0 (on aggregate). First, Barcelona were humiliated in Germany after they were beaten 4–0 (H). In the return leg Bayern ruled the tie and defeated them 3–0 (A) in Spain.
Bayern Munich now have to go through their furious rivals Borussia Dortmund in Final at Wembley 25th of May ,what for sure will be a mouth-watering all German Final. Do not miss it !!! Check Match Preview : Borussia Dortmund vs Bayern Munich