Two prominent German media, the daily Bild and sports magazine Kicker, announced this Monday afternoon that a Croatian footballer Mario Mandzukic is signing a contract for Bayern Munich.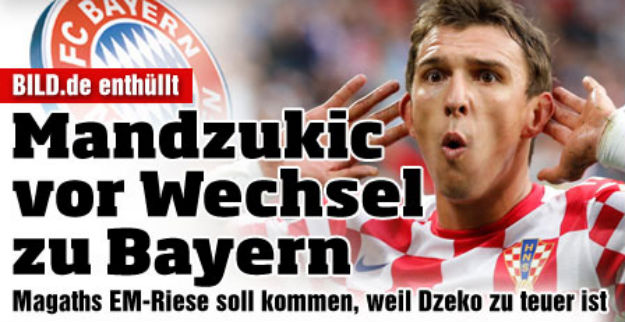 Moreover, the transfer should be realized this week, according to Bild and in addition Mandzukic is expected to sign four (3 +1) contract, then so,until 30 June 2016. year.He will play for an annual salary of 3.5 million euros. When it comes to compensation to his current club, Wolfsburg, for the contract which is valid until 30 June 2014. year, Bild claims that Bayern should pay around ten million.
Kicker, in contrast, mentions an amount of compensation between 12 and 15 million euros, and says that Mandzukic has already agreed with the European and German Vice-Champion, and now only thing left is that two clubs make an arrangement.
Bild and Kicker agree that Bayern decide to bring Mandzukic, because it their other target Edin Dzeko is to expensive.For Bosnians Bavarians would had to pay 40 million euros to Manchester City and give him a salary of about seven million.