Pre Match : Bayern Munich v Manchester City Preview , Live Stream Online, Team News, Lineups, Match Prediction
December 10, 2013 7:45 PM GMT
Allianz-Arena — München
Referee:‬ David Fernández‎
Watch Bayern Munich v Manchester City Live Online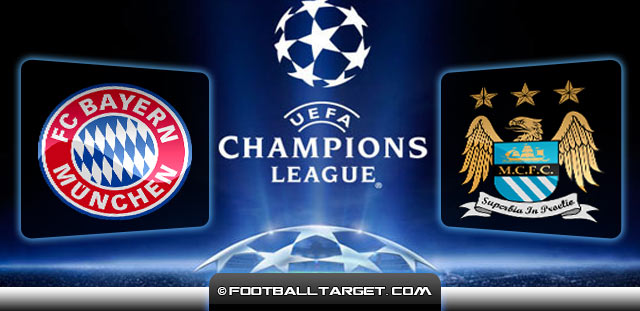 The big derby round in which teams are to enter it quite relieved. It was perhaps expected in the competition of CSKA and Plzen, but Bayern Munich and Manchester City on the ground definitely did not allow any surprise.
Bayern was significantly more dominant and they have won all their games quite convincingly, and even in a guest appearance in Manchester.
City on the other hand routinely have won all matches except that with the Bavarians, and now will try to take some revenge.
Judging by the current form of both teams it's hard to think that this can happen, because Bayern is stomping all of clubs in domestic championship, while City on tour doesnt play so good, which proves and the last round match and a 1-1 draw against Southampon.
So far these two teams have already played in Munich as part of the Champions League in 2011. Bayern was a much better team and at the end celebrated 2-0 win.
Pep's Bayern Munich this season is playing relentlessly, efficiently and in a very solid defense, to put more simply, again Bavarians are playing as the champions and all the states that possibly they could defend two or three trophies which they won last season.
Guardiola's men are still without a lost game, and just a few teams can boast that they were close to or possibly better on the pitch. Last weekend at tour in Bremen, Bavarians have shown a superb game when they demolished Werder with a high 7-0 win.
They havecompletely destroyed Werder and from all positions, because the goals have scored six different players, with one own goal.
Lahm, Robben, and Dante remained on the bench, but now it is certain that Schweinsteiger and Robben will play, while Lahm recovered.
Bayern Munich probable lineup : Neuer – Rafinha, Dante, Boateng, Alaba – Javi Martinez – Ribery, T.Kroos, T.Muller, M.Gotze – Mandzukic
Manchester City has achived target and passed into the next round . Currently they sit on the 2nd place behind Bayern, but they dont bother with it.The main target has been achieved and Citizens finally manage to reach the next stage.
More work to do, certainly they have in the English Premier league where they oscilate a lot. While playing at home they are really impressive, and have a better home record than Bayern, on tour Citizens look like a complety diffent team. Two away wins this season in EPL proves that.
Given that awaits them an encounter with Arsenal in the Premier league, coach Pellegrini shall definitely combine the first lineup.
This means that Dzeko could play from the first minute, Clichy could be on the left flank, Lescott at center-back, Javi Garcia in midfield, while the big handicap is that Yaya Toure ineligible because of yellow cards.
Manchester City probable lineup : Hart – M.Richards, Lescott, Demichelis, Clichy – Javi Garcia, Fernandinho – Jesus Navas, Milner, Nasri – Dzeko
Match Prediction : Bayern to win