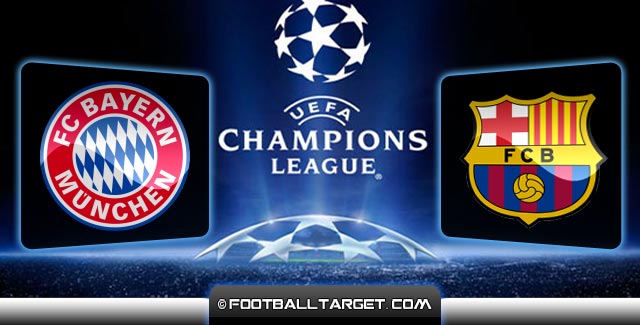 UEFA CHAMPIONS LEAGUE
May 12, 2015 • 19:45 • Allianz-Arena, München
Referee: M. Clattenburg
Bayern Munich vs Barcelona Live Streams
Watch Bayern Munich vs Barcelona Match Highlights
Bayern Munich vs Barcelona Full Match Replay
– available after the game end
Pep Guardiola's men have had all in their pockets at the Camp Nou first-leg match of the Champions league semi-final only 15 minutes until the end. Still, Bavarians failed to hold off the last 15 minutes, or more correctly to say, the Argentinian magician Lionel Messi stepped in and scored two goals, before another Barca star finished the job, scoring in the last-minute for the final and huge 3-0.
Bayern so far in the season managed to enter even higher home wins, in the Champions league as well, beating Porto FC 5-1 after losing with 3-1 in Portugal. Still, Barcelona are a much stronger team then any Bayern have beaten so far.
Bayern Munich coach Pep Guardiola insisted on Monday (11th May) that his future lies with the German champions, as he prepares for the return leg of Bayern's UEFA Champions League semi-final against his former club Barcelona.
After losing to Barca, Bayern returned to Bundesliga competition where Guardiola's men lost at home 1-0 against Augsburg. Result which perhaps is not surprising at all considering that Bavarian giant have already befor clinched the new league title. What put's Bayern in problem despite injury troubles (Robben and Ribery as key players) that Bayern have suffered their fourth in a row defeat in three different competition.
First the lose and were eliminated from the DFB Pokal by Borussia Dortmund, then they lost the game against Bayern Leverkusen, 3-0 against Barcelona and in the last round of Bundesliga to Augsburg 1-0.
Now they hope for a miracle, as regardless what the German side is capable of, they will need it against Barcelona this Tuesday.
Despite first leg 3-0 defeat, Bayern Munich chief executive Rummenigge is hoping for a historical comeback of his side.
"It is going to be very hard," he said. "Barcelona were the favourites in the first place and after the game that status grew. This is normal when you get this sort of result.
"But nonetheless, it is the duty of Bayern Munich to put on their best performance on Tuesday. We will see if it will be enough. Our chances are very, very small, but in football there is always one game in a century where you can turn the tides.
"They are rare, I know, but it is our responsibility to give all we can. If it is not enough you can't change it but you at least have to try."
Barcelona manager Luis Enrique says his side must be "really motivated" in their Champions League semi-final second leg at Bayern Munich – despite holding a 3-0 lead.
On the other side Barca at home with 2-0 were better than Real Sociedad, noting that Enrique gave a rest to some players, preparing them for the Champions league encounter with Bayern. An important win consider that the second placed Real Madrid pulled a 2-2 draw at home against Valencia after going behind 2-0. This puts Barca in control having four points more than the Los Blancos only two rounds before the end. But what could be a step down and a new problem for Spanish teams, is a suspension of entire Spanish Football. On the good side, Barca and Real Madrid because of it could focus 100% on Champions league.
As for Barca recent form, it's really an incredible one as the Catalan giant is on a run of eight straight wins, scoring 28 goals in the process and conceding only in one match.
The Blaugrana president still calls his players to focus, knowing that Bayern is one of those teams which could pull an incredible comeback, stating that the job is not done, yet.
"We have a good advantage," the Barca president is quoted as saying by MARCA. "But we must be cautious not forget that Bayern put six goals past Porto.
"We hope to see a good game against a great opponent but reach the final in the end.
"But we must be careful. We're going to play a game in a stadium that will push their side hard."
Team Probable lineups
Bayern Munich: Neuer; Rafinha, Benatia, Boateng, Bernat; Xabi Alonso; Müller, Lahm, Thiago Alcántara, Götze; Lewandowski
Out: Badstuber, Alaba, Robben, Ribery,
Barcelona: Ter Stegen; Alves, Pique, Mascherano, Jordi Alba; Rakitić, Busquets, Iniesta; Messi, Suarez, Neymar
Out: None