The reigning champion, Bayer Munich face their bitter rivals , Borussia Dortmund looking to return to winning road.
Pep Guardiola's men have not picked up a Bundesliga win since clinching the new Bundesliga title last month, and the home game against their rivals who were knocked from the Champions league, by Real Madrid, might be a not be so easy task to do, especially as Klopp's men are desperate to strengthen their grip on second place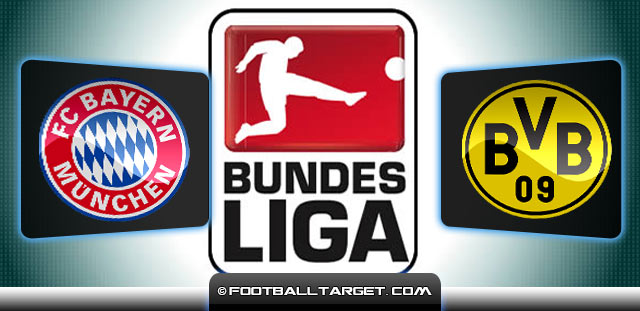 After a 2-1 away win over Hertha, Bayern and mathematically sealed a new league title, after only 27 rounds. The next game at Allianz Arena was a perfect place to celebrate with the fans, but Pep's men prepared a blunder after having a 3-1 lead. TSG Hoffenheim managed to take a draw and have taken advantage or Bayern early celebration.
In the next round, the new champions have lost on tour at Augsburg and their first game this season. It was alarm as in middle of it, Bayern played the Champions league game with Manchester United and drew 1-1. With a 3 games without a win, the Bavarians hosted the English side in the second leg match which proved to be a harder then anyone thought it would be.
Manchester United trough Partice Evra's golazo has taken a lead, but Mario Mandzukic's goal only a minute later helped Bayern Munich to take things seriously. Muller and Robben later scored too, and Bayern Munich secured their semi-finals place with the 4-2 agg. win and the game against Real Madrid.
While Bayern already clinched one title, other two are close. First, they could win another Champions league trophy, and another one is DFB-Pokal in which Borussia Dormund participate. DFB-Pokal is on schedule next week, so both managers could give a rest to some players, especially Klopp as Dortmund already clinched their place in the UCL next year, and the only thing which remains to see is, will Dortmund finish this season on the 2nd or 3rd below, Schalke 04. Probably this is not a big difference, but the DFB-Pokal trophy is the only trophy which remains to Dortmund to win this season, after elimination from Champions league by Real Madrid.
Speaking of it, Dortmund almost prepared a huge surprise, as they had a 2-0 lead in Germany and only one goal would be enough to stay alive in that game, as Real Madrid have won the first game 3-0. Klopp's men had their chances, and were by far better team, but the luck wasnt on their side.
No one expected a 2-0 points gap between Bayern and Dortmund this season, but a lot of injuries on Dortmund side proved to be a key factor for this season. Situation hasn't changed a lot, and while Guardiola practically doesn't have any injury problems, Klopp has to make the first lineup without Neven Subotic, Jakub Blaszczykowski (both knee), Marcel Schmelzer and Sven Bender (both groin), but the good news is return of the captain Sebastian Kehl.
Borussia Dortmund coach Juergen Klopp looks ahead to Saturday's Bundesliga clash away to champions elect Bayern Munich.
Bayern Munich tie not the best timing – Klopp

Dortmund haven't lost confidence with Champions League exit
Klopp's men have not won in Munich since 2011, but boosted with a morale after a 2-0 win over the Spanish side, Real Madrid, Klopp believes it is the perfect time to break that winless run.
"This is a sensational time to play Bayern, between Real Madrid and Wolfsburg," he said.
"In recent weeks the deciding moments have gone against us, and we've been short of a little bit of luck.
"This is about collecting three important points, which could do us a world of good."
Team Probable lineups :
Bayern Munich : Neuer – Rafinha, Javi Martinez, Dante, Alaba – Lahm, Schweinsteiger – Robben, T.Muller, Ribery – Mandžukić
Borussia Dortmund : Langerak – Piszczek, Sokratis, M.Friedrich, Durm – Kirch – Hofmann, Jojić, Aubameyang, Groskreutz – Schieber