[wptab name='Match Preview']The current Champions league winner, Bayern Munich welcome Moyes's men at the Allianz Arena looking to seal the deal and book their semi-finals spot.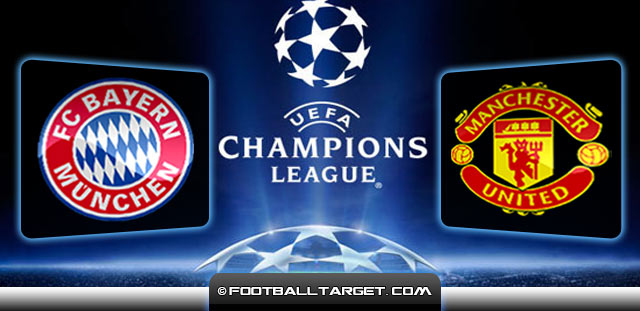 A lot happen in the last two weeks regarding these two teams, where the German side clinched new Bundesliga title,  and Manchester United is still on the hunt for Premier league 5th place which leads into Europa league, lifted their performances, smashed Aston Villa at home with 4-1 and Newcastle United aside 4-0.
What's important that for both games United was without injured Robin van Persie, while for the latest win, Wayne Rooney was out too, but he is returning for the Champions league second-leg match with Bayern Munich.
Everyone expected already in the first leg match of the quarter-final at Old Trafford last Tuesday, that the German side will win and secure their spot in the next round. But a spirited display Moyes's men secured a 1-1 draw with which the Red Devils travel to Germany. From one perspective it's result which leads Bayern into semi-finals, but Pep Guardiola's men certainly wont allow themselves to think like that, and in front of their fans they will go to win.
Even that Schweinsteiger's away goal has put the Bavarians in the driving seat to reach the semi-finals, English troops wont give up. The fact that Manchester United is currently the best away team in Premier league despite sitting only on the 7th place, suggest that Moyes's men could upset all odds, especially since Bayern have some problems with unavailable players. Specifically, Schweinsteiger is serving suspension after picking up a red card at Old Trafford, Javi Martinez due to suspension is out as well, Thiago Alcantara is sidelined with a knee problem and Xherdan Shaqiri (thigh) it out too.
Bayern was beated at Augsburg (1-0) for the first time in 18 months on Saturday, a defeat which ended their record 53-match unbeaten run in the Bundesliga, while on the other side led by Juan Manta the Reds Devils enrolled already mentioned 4-0 win against the Magpies. The Problem is that Mata is ineligible in Europe, and Moyes will turn to Rooney in seeking for the German miracle.
Guardiola shrugged off the defeat at Augsburg , and described the second leg with Manchester United as a "life or death match". After winning the league title perhaps it's not like that, but Bayern are heavy favourites to progress and anything except that would be the miracle . On the other side, scenario a "life or death match" certainly it is for the English side, which is under a lot of pressure this season especially after home defeats to Liverpool and Manchester City. To Current league winners only the Champions league trophy can save this season. Moyes is aware that he sits on the "hot seat" and fans have already started to turn the thumb down, and it would be interested to see will Moyes remain the manager of the Red Devils until the end of season.
Patrice Evra is back from a ban and believes that United could surprise the Germans.
"It was funny because the season reminded me of the Chelsea season when they won the Champions League when they were not playing well in the league," Evra told reporters.
"I am not saying we are going to do the same but sometimes you have to be positive, so why not?
"Of course it is unusual for us to say we can save our season in one game. Now we must make sure the fans will be proud for the second leg against Bayern."
On the other side Bayern captain , Lahm has said: ""How are we going to play? Well, as usual – trough the possession of the ball we will try to keep our goal," said Lahm and for one of the most dangerous rival players he singled Shinji Kagawa who he knows from the time he played for Borussia Dortmund."
Team Probable lineup 
Bayern Munich :  Neuer – Rafinha, Boateng, Dante, Alaba –Lahm, Kroos – Robben, Muller, Ribery – Mandžukić
Manchester United :  de Gea – Jones, Vidić, Ferdinand, Evra – Carrick, Fellaini – Valencia, Rooney, Januzaj – Welbeck
Match Prediction : Despite defeat to Augsburg, and despite away form of Man Utd, anything but a win for Bayern would be a big surprise here. Robben, Ribery, Mandzukic have what it takes to seal one of the worst seasons for United.
[/wptab]
[wptab name='Match Video news']
Guardiola wants Bayern to dominate Man United
Bayern Munich coach Pep Guardiola has said that he hopes his team will dominate Wednesday's second leg of their Champions League quarter-final with Manchester United, as they did in the first leg at Old Trafford.
Guardiola: 100 per cent sure Rooney will play
Moyes looking forward to Bayern game
Manchester United manager David Moyes spoke to the media on Tuesday (April 8th) ahead of the second leg of his side's UEFA Champions League quarter-final with Bayern Munich.
Moyes confirms Rooney will play against Bayern
Moyes hoping for United possession
Manchester United have received a boost ahead of the second leg of their Champions League quarter-final with Bayern Munich on Wednesday.
Wayne Rooney, who had sat out Saturday's win over Newcastle with a bruised toe, has returned to training.
[/wptab]
[end_wptabset]