According to the German Newspaper Bild, Jose Mourinho counts his last days on the bench at Real Madrid. The Portuguese, in fact, is returning to Chelsea. Interestingly, this information arrived at half-time of the Champions League semi-final match between Real Madrid and Borussia Dortmund.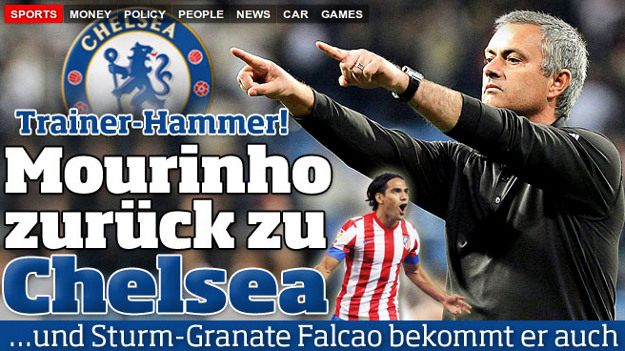 The same newspaper broke the news of Bayern Munich´s transfer of Mario Gotze from Borussia Dortmund.Bild also claims that for a "special welcome gift" to Mourinho,Blues' owner Roman Abramovich will brought Colombia striker Falcao a €60million (£51.7m).
Chelsea striker Torres said: "When you play for Chelsea, you're always hoping big players come and the big names are always being linked with the club.
"You cannot stop that – especially when the summer comes. Every player is welcome at Chelsea, every top player.
"Since I came to Chelsea, only top players have come, so it would not be a surprise if we signed Falcao."
Bild claims that Mourinho before the game whispered to Dortmund´s coach Jürgen Klopp that at the end of the season he is leaving Real Madrid and takes over Chelsea, and asked him how much he is asking for Robert Lewandowski (