Clash of German football titans will be played at the famous Westfalenstadion in front of 80 000 fans. Dortmund with triumph has a chance to escape back to 6 points and solve almost all in his favor,but with victory ,Bayern will take the top and complicated situation in Bundesliga to the end.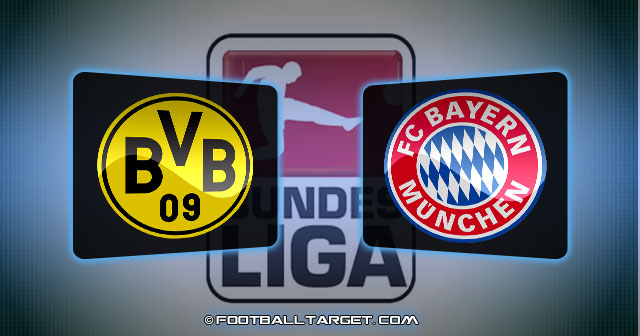 While was expected a different course of events, at the end of the last round Bayern has struggled more at home against Augsburg, but Dortmund away at Wolfsburg. In the end, they both typed victory,and Borussia advantage remained 3 points. However, after a shocking game against Stuttgart, where on two occasions they showed how much cost them dearly occasional drops in the game of their defense, the Dortmund certainly know that these three points do not guarantee anything.
Bayern Munich in their ranks again will have Schweinsteiger, but the rhythm of playing in the league and the Champions League is definitely not the water to their mill. As much as in the games against Augsburg and Marseille, Bayern coach Heynckes spared most first team players, against Dortmund into the fire will go all the best, as long as they can run, walk or crawl. The same applies for the hosts, Dortmund coach Klopp, after all, don't have any reason to calculate and to rest few players, as the only competition in which Dortmund is currently playing is the Bundesliga and cup finals against, who else but Bayern, which is on the program in May.
About this teams,we can only write in superlatives.They have twenty victories,and average they score more than two goal on match,and above all they are both on long unbeaten run,especially Borussia who hasn't lost a single game since semptember last year.Bayern is in great shape in the Champions league,where they manage to reach semi-finals and there awaits them Mourinho´s Real Madrid.
In this derby matches Bavarians are more succesful but last three matches Borussia won,from which two of them in Munchen.Last time it was 0-1 victory.
Neither team from top Eruope top leagues,cant commend with series which Borussia currently have.More then a half year they were not defeated in league.However,that isnt enough to have secured this year league title.On contrary,just won defeat,and if it happens in this match would bounce them to second position.So,any relaxation for them is not questionable,and against Bavarian giant Bayern Munchen,certainly there would be none.In their recent matches they played little weaker then before where they got two draws,but last Saturday they passed superiorly away match against Wolfsburg which they have won with 3-1 .
Mario Goetze still isnt ready for coming back in the tram,while Kringe is on a long absence so for this match we can expect formation 4-2-3-1 with Weidenfeller, Piszczek, Subotić, Hummels, Schmelzer, Gundogan, Kehl, Blaszczykowski, Kagawa, Grosskreutz and Lewandowski in first lineup.
This Saturday Bayern was played little with nerves of their supporter,but it seems like they consciously dosed they strength,for match with Borussia.Tottaly undestandable,because Bayern is playing on to three front,and after playing in Champions league,unpleasent visit to Nurbeng they needed little reoccupation,so Augsburg seemed ideally for something like that.Five wins in a row which Bayern manage to do in German league,help them to reach second positions and to cut the gap to the leader Borussia to just three points,which is giving them a hope that with today victory they can take the the first spot.But it wont be easy for them.
Bayern manager Jupp Heynckes only dilemmas for this match have in midfield part,more concrete,would he set the formation more offansive or defensive.In first scenario,with returner Schweinsteiger on position of defensive midfielder will play Tony Kross,while on the second scenario it would play Luiz Gustavo.There is one more option,where all three of them would play,but then,Kross will replace T.Muller.Except that,Heynckes doesn't have any other problems,and all standard players are available for him.
Probably lineup of Bayern: Neuer – Lahm, Boateng, Badstuber, Alaba – Schweinsteiger, Luiz Gustavo(Kroos) – Robben, T.Muller(Kroos), Ribery – Gomez
Prediction : regardless to current good form of both teams,its hard to give advantage to any team here.Even Borrusia is playing at home they can go to this match carefully not to lose,but on the other hand,Bayern will seek a win here,so we could see lots of goals here.You could try both teams to score or over 2,5 goals.
Highlights : Borussia Dortmund – Bayern Munchen
Watch Borussia – Bayern live from our live stream section.