The last major match of the so-called "group of death" in which we saw a lot of great football, is practically insignificant for Borussia who at their Signal-Iduna-Park stadium welcome the current English champion Man City.
While the hosts have already qualified for the next stage of this competition, the English Man City for the second year in a row, dropped out of Champions league already in the group stage, and only a victory in this match could save their " cheek " by qualifying for the Europa League competition.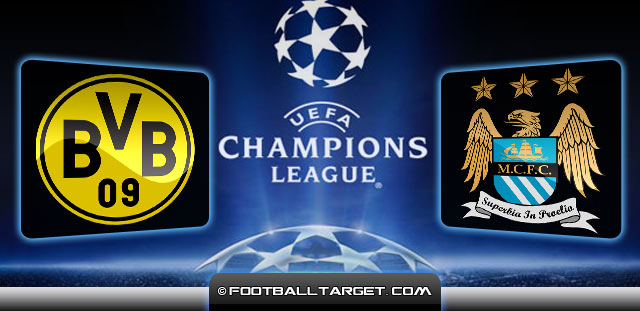 Borussia has eight points more, although the first match between these two teams at Etihad Stadium finished with a draw 1:1.This is also the result with which both teams have finished their league matches this weekend, where Man City was host to Everton and Borussia on a much more difficult away game against Bayern Munich has won a point.
Neither team is exactly in some brilliant form, but still Borussia plays a bit better.
Borussia completed Champions League group stage super superbly, so  this match the Germans can play without any special imperatives.
Twice they beaten Ajax, which was actually to be expected, but their strength was demonstrated precisely in the two most difficult matches, in Madrid and Manchester.
Both times it was a draw, but Borussia was brilliant in both games and deserved even to win those.They reward for all the good games,came at home against Real Madrid when they celebrated a victory of 2-1.
On the other hand, much more problems Millionares have in domestic competition, where Bayern Munich has fled 11 points .Borussia is playing well, but several times already this season they have easily lost its leadership, and as a result of it, is their currently 3rd place.In last match against Bayern again has Gotze scored brilliant. (Bayern 1-1 Borussia Full match video)
For this match Dortmund´s coach Klopp could make a few changes and rest some of first team players. So we could see Santana, Leitner, Perisic, Groskreutza and Schieber on the pitch from the start.
Borussia Dortmund probable lineup : Weidemfeller – Piszczek, Felipe Santana, Hummels, Schmelzer – Leitner, Gundogan – Blaszczykowski, Groskreutz, Perisic – Schieber
Manchester City team for the second straight season is playing poorly in the Champions League and we can say that this is a big surprise.
Such an excellent team, full of brilliant individuals should have in this competition to provide more, especially since they have a very wide selection of very good players.
Anyway, Citizens have said goodbye to the Champions League already, in five rounds they failed to beat anyone,and they have not even secured a placement in the Europa league.
Man City hardly is losing, their last defeat has taken a place in Amsterdam more than a month ago, however, they drew a lot.In the last nine games, five have ended without a winner,and the last draw was on Saturday at home against Everton when they went behind,but Tevez has scored from a penalty for the final 1-1 result.
Kolarov in that match picked an injury, and as for the composition for this match, that only knows Mancini who tirelessly rotates players in all lines of the team,and probably he will do it again, which means at least four, five changes in relation to Saturday´s match.
Man City probable lineup : Hart – Maicon, Kompany, Nastasic, Zabaleta – Javi Garcia, Yaya Toure – Silva, Nasri – Tevez, Aguero.
Match Prediction : This should be a match in which we can expect a full open football, because Borussia can play relaxed, while Manchester City has an imperative of win.Over 2,5 goals.