[wptab name='Match Preview']
With some painful memories of last year's trip to Dortmund that Real Madrid have , Ancelotti's men will put that behind them on Tuesday after having 3-0 lead from the first-leg match.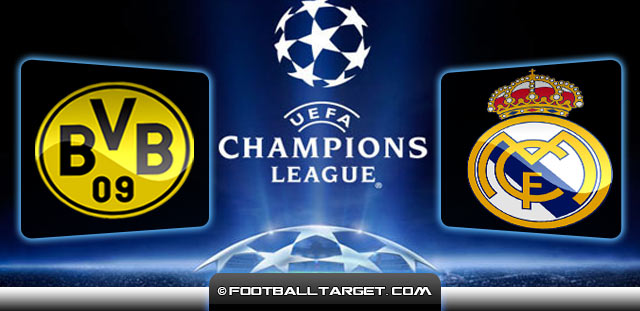 Klopp's men probably wont make to the semi-finals as they need minor miracle to overcome Blancos. Scenario from the last season, again probably wont happen. Lewandowski is back for this game, but to score 4 goals to Real Madrid is something that doesn't happen so often. These are practically very different teams, as both teams made a lot of changes. Last season Real Madrid struggled a little, while Borussia was impressive. Now things are the opposite. While the Spanish side, who sit on the third of the La liga is still in race for domestic title, Bayern Munich have already clinched Bundesliga title, and to Klopp's men remain to fight of with Schalke 04 for the second place.
Both teams have entered wins last weekend in their leagues, where Borussia Dortmund was behind one goal to Wolfsburg, Klopp's men still managed to win, while Real Madrid entered convincing 4-0 away win over Real Sociedad. The German side this season have a lot of problems with injuries, while on the other side the main problem for Ancelotti is , Will Cristiano Ronaldo be ready for this game after picking knee injury on the training.
On Sunday, Ronaldo felt a slight pain in his knee, and he has left the training. I honestly do not know yet whether he will play, but I can say that I will not take any chance with him if he is not one hundred percent ready, "said the Italian strategist on the bench of Real Madrid.
"As far as for the match, I do not believe that everything is resolved. In the first game we really looked great and I'm sorry that we did not finish the match with a few more goal. We know that we will have a difficult match in Dortmund. We will be attacked from all sides, but for us it must be a match like any other. We have a great result and we have to reach the semifinals.
Having skipped the first game due to injury, Robert Lewandowski will return in the second leg.
"There is no doubt that he is a high quality player and that his presence gives a lot of confidence to Borussia. We need to be careful, everyone remembers how last season Robert excelled in matches against Real Madrid," said Ancelotti.
Robert Lewandowski returns, but probably too late. Who knows what could be in the first game if he played. Still, Klopp has other problems regarding the first lineup, as Neven Subotic and Jakub Blaszczykowski are still sidelined while the captain Sebastian Kehl is suspended.
It would be foolish to think that I can score four goals again, but we are always dangerous in Dortmund and we still have a chance, so, we want to give our best," said Lewandowski and added : "Last year we were a different team, now we have a lot of injuries. But we are still strong. "
" Victory against Wolfsburd helped us, if we lost that one, we would be under enormous pressure. It is important to win that one and to turn to Champions league match on Tuesday in good mood," said the coach Jürgen Klopp, who continued with the wishes before the kick-off.
"We want to play better defense and take advantage of our opportunities, as opposed to failures in Madrid," Klopp revealed game plan, with the message: "We are specialist for the second half, and this is the second half of the quarter-finals. We want to conclude it with victory."
Team Probable lineups
Borussia Dortmund: Weidenfeller – Piszczek, Sokratis, Hummels, Durm – Jojic, Sahin – Großkreutz, H. Mkhitaryan, Reus – Lewandowski.
Real Madrid: Casillas – Carvajal, Pepe, Sergio Ramos, Fabio Coentrao – Modrić, Xabi Alonso, Di Maria – Bale, Benzema, Ronaldo (Isco)
[/wptab]
[wptab name='Video News']
Lewandowski downplays his scoring record against Real
Borussia Dortmund striker Robert Lewandowski tried to dampen expectations ahead of his return from suspension for the Champions League quarter-final second leg against Real Madrid at Westfalenstadion on Tuesday (KO 19:45 BST). The 25-year-old scored all four goals in a 4-1 win for Dortmund against the record nine-time European Cup winners in the Champions League semi-final first leg during the 2012/2013 season. The Pole has netted five times in his last two home Champions League appearances against Real.
We have to concentrate – Ancelotti
Real Madird manager Carlo Ancelotti looks ahead to his side's Champions League quarter-final second leg at Borussia Dortmund.
Real to attack Dortmund
Real Madird manager Carlo Ancelotti says his side will play attacking football in their Champions League quarter-final with Borussia Dortmund, despite holding a 3-0 lead.
[/wptab]
[end_wptabset]