Brazil coach Luiz Felipe Scolari has confirmed a list of his 23-man squad for World Cup 2014, with Kaka, Ronaldinho, Miranda, Robinho, Filipe Luis and Lucas Moura all missing out.
Scolari for Brazil's sixth title , and the first at home , will go with the proven players. Thus, 18 of the 23 players on the list play in European clubs , and three of five of those who do not come from Europe during his career were played in Europe ( Julio Cesar , Fred , Jo ) .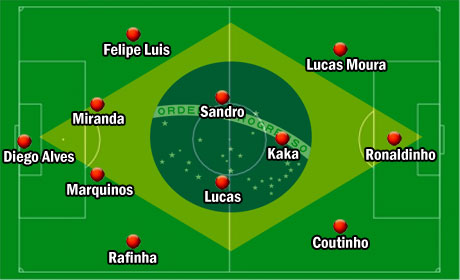 Many football experts were surprised with Scolari's list, and so some of them decided to make a team of Brazilians who were not invited for the World Cup.
The only one who did not play in Europe are two goalkeepers, Jefferson from Botafogo and Victor from Atletico Mineiro.
However, speculation of the Brazilian media that Scolari might surprise everyone and invite Kaka, Miranda, Coutinho, and even Ronaldinho, did not happen.
After announcing the list, the Brazilian coach said that from now until the 13th of June he is thinking solely of the Croatian national team: " Croatia are without a doubt our toughest opponent in the group. If we think about reaching the final, we have to go step by step, and the game with Croatia will be the most difficult and most meaningful game. We are thinking only about them," said Scolari.
Scolari not worried by squad lack of World Cup experience .
Brazil will open the World Cup on June 12 against Croatia in Sao Paulo, while with them two in group A are also Cameroon and Mexico.
Brazilian national team:
Goalkeepers: Julio Cesar (Toronto), Jefferson (Botafogo), Victor (Atletico Mineiro)
Defenders: Marcelo (Real Madrid), Dani Alves (Barcelona), Maicon (Roma), Maxwell, Thiago Silva (both Paris SG), David Luiz (Chelsea), Dante (Bayern Munich), Henrique (Napoli)
Connection: Paulinho (Tottenham Hotspur), Ramires, Willian, Oscar (all three of Chelsea), Hernanes (Inter Milan), Luiz Gustavo (Wolfsburg), Fernandinho (Manchester City)
Offense: Bernard (Shakhtar Donetsk), Neymar (Barcelona), Fred (Fluminense), Jo (Atletico Mineiro), Hulk (Zenit)