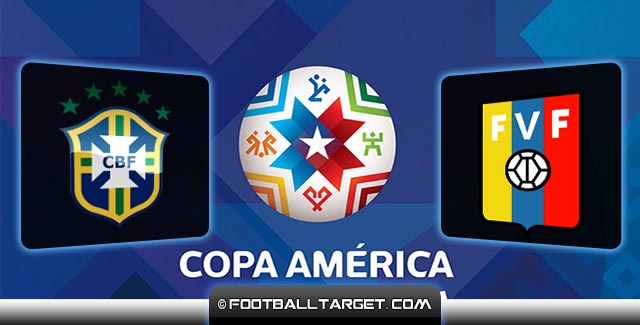 COPA AMERICA
June 21, 2015 • 22:30 • Estadio Monumental David Arellano, Santiago de Chile
Referee: E. Cáceres
In the last round of Group C, Brazil without their star Neymar who is suspended is set to play against Venezuela, looking for a win. Both teams have a chance of securing the next stage with a draw, but in that case many things will depend on Uruguay v Peru match.
On the other side a defender Fernando Amorebieta is suspended for Venezuela in a 1-0 defeat vs Peru. Brazil lost the first game since the World Cup 2014 under their new boss Dunga, and the Selecao still did not sealed their progress. A possible defeat would be a huge upset for many stars in Dunga's team as Brazil are one of the Copa America 2015 favourites.
– Brazil v Venezuela is available worldwide, including the UK except for in the America
– Please be aware that you will need an active Bet365 account to watch Brazil v Venezuela
– Make a minimum 5 euro deposit get a bonus of another 5, and you dont have to spend it, ever.
 Despite Neymar's absence, Dunga is trying to calm down the whole thing.
– Everything depends on only us, and the ideal situation would be to beat Venezuela.
– I think we are creating good chances and that we are playing fine, so we just need to improve our finish and there would not be any problems.
– I try to be calm and to not bother with what's happening off the pitch.
– Of course that i would wish that Neymar is with us, but he's gone, and I believe to the rest of the team.
On the other side Venezuela boss Noel Sanvicente believes that his team have what it takes to beat the Selecao.
– We knew that this group was quite difficult, but we must move fast from the defeat because it is Brazil.
– We're going with a defeat, but we have the match against a favourite and that motivates us.
– We know what Brazil are, and without Neymar, we have the team to win.
Brazil head coach Dunga spoke on Saturday (20th June) ahead of his side's Copa America clash against Venezuela on Sunday (21st June).
Venezuela head coach Noel Sanvicente spoke on Saturday (20 June) ahead of his side's final Copa America Group C match against Brazil.
 Team probable lineups
Brazil:  Jefferson, D. Alves, Miranda, T. Silva, Filipe Luis, Elias, Fernandinho, Willian, Tardelli, Fred, Firmino
Venezuela: Baroja, Rosales, Vizcarrondo, Tunez, Cichero, Rincon, Seijas, R. Vargas, Arango, Guerra, Rondon