After a long anticipation, finally the biggest sporting event this year – FIFA World Cup which will otherwise be held from 12 June to 13 July in Brazil, is here.
And as it usually happens, after the opening ceremony of the World Cup first match will play domestic team, Brazil, who on Thursday night in Sao Paulo, within of Group A, will play against Croatia which is led by amazing La liga duo, Luka Modric and Ivan Rakitic. For those who are not in touch with latest news regarding Croatian team, Bayern Striker, Mario Mandzkuic is suspended for the first game.
Watch Brazil vs Croatia live free online
Match Highlights & Full Match available after the game end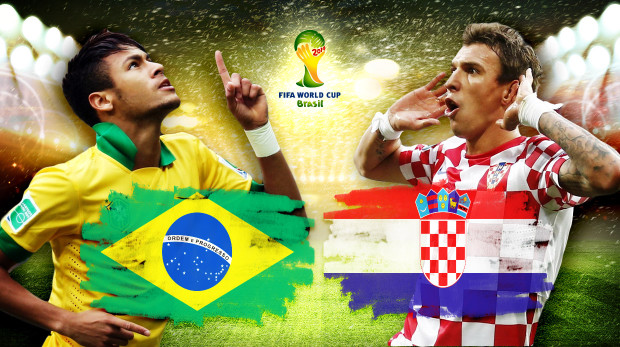 For this small introduction at the start, let's say that these two teams so far have played twice. First, friendly game back in 2005., ended with a 0-0 draw, while the last game only a year later at the World Cup 2006., ended with a minimum 1-0 win of Brazil.
BRAZIL / Nickname – CANARINHO
Luiz Felipe Scolari's side are the only team that have participated in all previous World Cup's, and the popular "Samba Kings" also have won the most trophies, five world titles.
The last time they made this feat was even 12 years ago, at the World Cup in Japan and South Korea, while in the last two World Championship competition, Brazil ended their campaign in the quarterfinals, which certainly now will be a huge motive ahead of the first game. A fact that Brazil have never lost opening match of World Cup speaks to it self, but Croatia boss, Niko Kovac aims to make a history and knock the home team in front of millions viewers across the world.
As Brazil are the host, Scolari's men didnt played qualification for World Cup, but they did played a lot of friendly games in the past year where they recorded as many as 10 wins and only one defeat.
In addition, it should be noted that at last year's Confederations Cup, which was also in Brazil, Samba Kings convincingly have won the first place, winning give games and scoring 14 goals in a process.
Ramires 'aware' of pressure
According to this data we notice that their greatest strength lies in the offensive part of the team, which emphasizes the trio Hulk, Neymar and Fred, but also the rest of the team have a very important role in achieving a single goal, which is winning the sixth consecutive World Cup title.
Gustavo wary of 'very skilled' Croatia
In the last friendly match ahead of World Cup, Brazil played with Serbia and the World Cup hosts were not so recognizable and did not played on their level. Still, they entered a 1:0 win , so that in a winning atmosphere will welcome the opening match of the World Cup with Croatia. Brazil boss Scolari lately mainly played with the same players in the starting 11 so we do not expect some major changes.
Brazil probable lineup : Julio Cesar – Dani Alves, David Luiz, Thiago Silva, Marcelo – Paulinho, Luiz Gustavo – Hulk, Oscar (Willian), Neymar – Fred
CROATIA / Nickname – Vatreni

The biggest success of Croatia at World Cup was the third place in 1998th year in France.Only once since then Croatia was absent from the world's biggest football competition, and it was four years ago at the World Cup in South Africa.
Because of that now a team led by La liga duo, Rakitic and Modric, a superb Bayern Munich striker, Mario Mandzukic ( suspended for the first game) is motivated to return to the big stage and enter a good result, which in this tough competition certainly would be the placement into the next round.
However, a draw to Croatia was not so lucky as already in the first game they play with one of the biggest favorites, and the host nation, Brazil, so they will probably will be looking for their chances in the remaining two matches with Mexico and Cameroon.
Still, it does not mean that Croatia will rise a "white flag" before the kick-off this Thursday in Sao Paulo, more over, according to Ivica Olic and Croatia boss, Niko Kovac, the popular " Vatreni" will look to shock the football world and to surprise the host.
Croatia will try to surprise Brazil – Olic
"I know how to stop Brazil. I'm watching them for half a year, we are excellently prepared and ready for the game. I sleep quite good."
"Brazil struggled against Serbia and in that game we could also seen how to play against Brazil. Besides, I do not know many teams that want to play against us. We are strong team and we'll show that."
Croatia at this competition came only after the barrage match in which they eliminated selection of Iceland. This was also the first game of Niko Kovač on the bench of this selection, where he succeeded his former colleagues from football days, Igor Štimac who had bad results with the team.
This obviously proven to be the correct move, because Croatia and after the game with Iceland continued with good results, so in three friendly games they played a draw , away, against Switzerland and enrolled two minimal victories over Mali and Australia.
Still, those games were not so great, and Croatia would have to raise their level if they want to reach the next stage, especially as they can't count on their top striker, Mario Mandzukic, while Niko Kranjcar due to injury will miss this World Cup. According to the latest news, Hull City power-forward, Nikica Jelavic will probably start in attack.
Croatia probable lineup : Pletikosa – Srna, Ćorluka, Lovren, Vida –Vukojević, Modrić – Rakitić, Kovačić, Perišić – Jelavic (Olić)