The World Cup hosts, Brazil after getting stunned by Germany 1-7 in semifinal clash will battle Louis van Gaal's side which lost after penalty lottery to Argentina , for third place. Match which neither team doesnt want to play since it doesnt bring anything important, The Selecao will use to try to get their pride back, while the Oranje will try to finish their World Cup campaign undefeated.
WORLD CUP – THIRD PLACE
Brazil vs Netherlands – Live Streams
July 12, 2014 • 21:00 • Estádio Nacional de Brasília, Brasília, Distrito Federal
Referee: D. Haïmoudi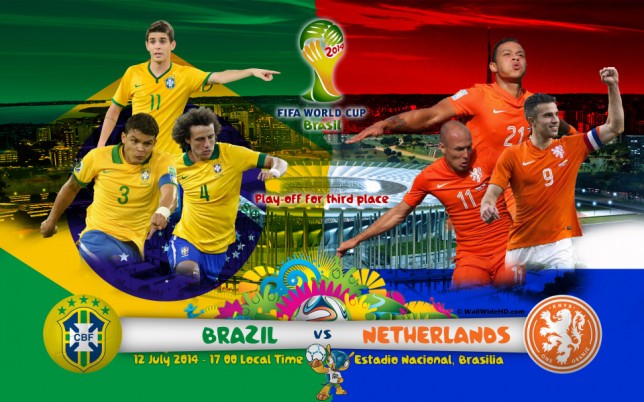 Four times so far these two teams met in the World Cup competitions and both entered two wins. Brazil in 1998., won only after penalties while at the last World Cup in South Africa, the Netherlands celebrated 2-1 in the quarterfinals.
After suffering the worst defeat in their history, Brazil are in shock . They wanted eagerly their 6th World Cup title, and the home advantage should help them to achieve it. Still from the very beginning it could be seen that Brazil were not playing some specially good football.
The Selecao were not brilliant, they had a little help by the referees, in some games were lucky, they got all the support from the stands. All this was enough to reach the semi-finals, but their weaknesses surfaced in just ten minutes gap against the most difficult opponents they encounter, Germany.
"We have nothing to be ashamed of. We Did a good job in this tournament, we lost in the semifinals of the team that was better than us," said Scolari, who still does not think of his resignation.
"We'll see what happens in the match for third place, but after the tournament I plan to submit a report to the President of the Association and it is to him to decide what to do next. Our task is to urgently repair the atmosphere around the team, and in a particular way the relationship with the press" he added Scolari.
"It is good that we are no longer under the pressure of winning the gold. I Agree that the defeat against Germany is something that will hunt us until the end of life. Day after the semi-finals I did interviews with the players, I tried to lift them a little .It's not easy for them. Certainly we did not planned to finish the tournament like this. We wanted to run out in front of the full Maracana, but what's done is done, " said Scolari.
Scolari doesn't have any excuse, but it must be said that The Samba Kings were without their captain Thiago Silva in defense and by far their best player Neymar. Dante and Bernard were their changes, but not very successful ones. Thiago Silva definitely will start but we can expect a few changes in the starting lineup.
Probable starting lineup of Brazil : Julio Cesar – Dani Alves, Thiago Silva, David Luiz, Marcelo – Luiz Gustavo, Ramires – Bernard, Oscar, Willian – Jo
The Oranje lost their opportunity to win the title , in a penalty shoot-out against Argentina. Still the Dutch have not lost a single World Cup game. The aim of Van Gaal is to keep that record.
Robben and van Persie were far from their best editions, and we know that until the semi-finals these two players, with the help of Snejider, were carriers of the Dutch game.
The defense was great against Argentina and were able to completely stop Messi and for the second match in a row they kept their net clean ( regular time & extra-time ).
"We came to Brazil with the purpose and faith that we will achieve a better result. We failed to reach the final, but we want to finish the tournament with the bronze medal around our neck.
Not only that, the goal is to finish the World Cup without a single defeat!", said Van Gaal, who once turned his attention to Brazilians and FIFA.
"Brazil has a day of rest more than us. How is that fair? They played before us and that is a fact. Gotta warn of this injustice, because it was obvious what was tried to do here. I'm Asking a question: Why would anyone do this?" Said Van Gaal.
"For ten years I'm saying that the match for third place should not be played. It Makes no sense," concluded the Dutch boss.
Recovered de Jong replaced Depay in the starting lineup, and it was the only change. Since Van Gaal doesnt needs to use defensive tactics, we can expect some new changes and more offensive formation. Problems with injury has Robin van Persie, so it is possible that Huntelaar starts instead, while Janmaat could jump in instead Martins Indi.
Probable starting lineup of Netherlands : Cilessen – Janmaat, de Vrij, Vlaar – Kuijt, Wijnaldum, Blind – Snejider, Robben – Huntelaar