Capital One Cup : Chelsea – Manchester United Match Preview,Live stream online,Prediction,Lineups
Stamford Bridge — London
October 31, 2012 3:45 PM EDT
Just three days after their big match in the Premier league, which after a lot of controversy at the end went to guests from Manchester, these two teams will weigh their forces at Stamford Bridge once again, but this time in the eighth finals of the Capital One Cup.
Otherwise, despite the victory of 3-2 in the last round of the Premier League, United are still one point behind the leading Chelsea, and it is also interesting that the "Red devils" in the last six duels between these teams have a score of five wins and one draw.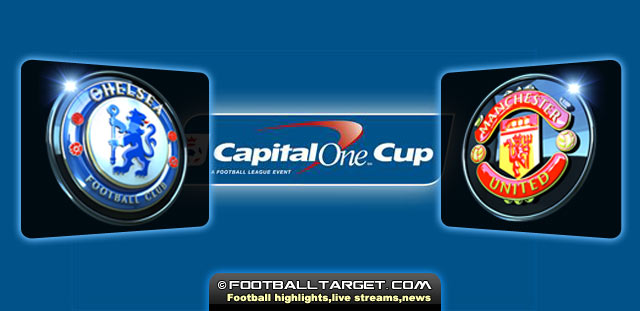 Of course that this fact very much bothers fans of Chelsea, so we believe that at least in this League Cup encounter, which is certainly the least attractive of all the competitions in which both teams performs, Chelsea players will give their best to reach this long-desired triumph over United.
The motive more the Blues will have after the last Sunday's derby, where on the opinion of many Chelsea were defeated with a big help of referee´s trio led by Mark Clattenburg, who first sent of two local players, and afterwards admitted third goal to United which was from an apparent offside.
But that was not all,because immediately after the match Chelsea FC have sent an official complaint to the English Football Association for his inappropriate speech to Mikel and Torres, in which he used an abusive and racist expressions.
Of course that the whole situation around the referee´s decision will very much affect the events in this League Cup encounter, but on the other hand Chelsea coach Di Matteo said that his players, and this time only trough a game will try to come to triumph over great rival, no matter to a lot of changes in the first team.
Specifically, it is known that due to suspensions the right to participate don't have Ivanovic , Terry and striker Torres, while the experienced Lampard is injured . It is also expected that coach Di Matteo rest some of his key players, which means that the opportunity should get reservists Sturridge, Marin and Moses.
Chelsea probable lineup 4-2-3-1 : Turnbull;Azpillicueta, Cahill, Luiz, Bertrand;Romeu, Mikel;Moses, Marin, Mata ; Piazon
As for the current mood in the ranks of Manchester United, it is certainly much better than in the camp of the London´s team, but also they United players are aware that now they will have a much more difficult task, considering all the events in Sunday's match.
However, coach Sir Alex Ferguson is too experienced to allow its players to fall to some host provocations , so we believe that he will properly prepare his team to reach one positive result at Stamford Bridge.
Still,Man Utd´s player must also draw out certain lessons from Sunday's duel when lightly drop an advantage of two goals difference, so this time certainly they should not allow themselves too much oscillations in the game, especially when it comes to defensive tasks.
Exactly this part of United's team is most vulnerable, given that still out of action are injured Vidic, Jones and Smalling, so that Ferguson actually don't have a lot of choice in these positions and probably will play some of three players in the back line from the last match, while Buttner on the left side should replace experienced Evra.
Offensive part of them as well will certainly suffer some changes, which does not mean that it will not be harmful to Chelsea´s goal. Fast Welbeck and Nani are guarantee of that.
Manchester United probable lineup 4-5-1 : Lindegaard;Vermijl, M Keane, Wooton, Buttner;Nani, Powell, Fletcher, Scholes, Anderson;
Welbeck
Match Prediction : Although opposed to the Sunday match,this time both coaches will likely send to field a combined teams, this will not affect their desire to win, so this time again we expect a lot of good actions, and also goals on both sides.Over 2,5 goals.Best odd is at Bet365.
Watch Match Chelsea FC vs Man Utd online from our live streams for free.