The exciting UEFA Champions League draws are decided, the Bundesliga champions face Barcelona and the current champions of the tournament Real Madrid will take on Juventus.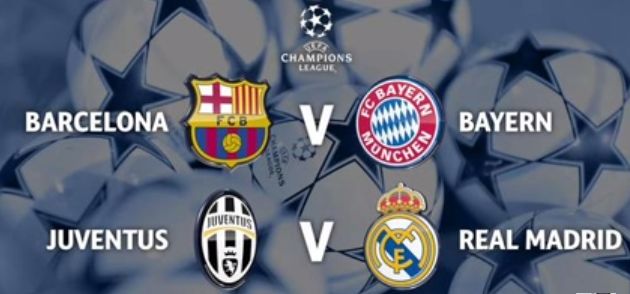 The semi-final draws took place on Friday in Nyon, and according to the draws Barcelona have been given the tough task to face Bayern Munich and Real Madrid will face Italian champions Juventus.
Barcelona defeated Paris Saint-Germain in the quarter final and Bayern Munich pulled a great come back against Porto to book a place in the semi final.
The semi final draw sees former Barcelona boss Pep Guardiola take on the Catalans, the club he enjoyed and achieved so much success even won the Champions League.
Both sides met in 2013-2014 season in which Bayern nailed off Barcelona with a thumping 7-0 aggregate win.
This encounter will be a mouth watering encounter with the best players on the planet will look to book a place in the final.
On the other hand, current holders Real Madrid won the quarter final against city rivals Atletico Madrid. Real Madrid has been assigned to play the Italian champions Juventus.
The Champions League semi-finals will be played on 5/6 May and the second leg is scheduled for 12/13 May.
The final of this season is to be played on June 6 in Berlin.