In Nyon was held a draw of the eighth finals of the Champions League. Derby match will play Barcelona and Manchester City, while interesting also will be a match between Bayern Munich and Arsenal.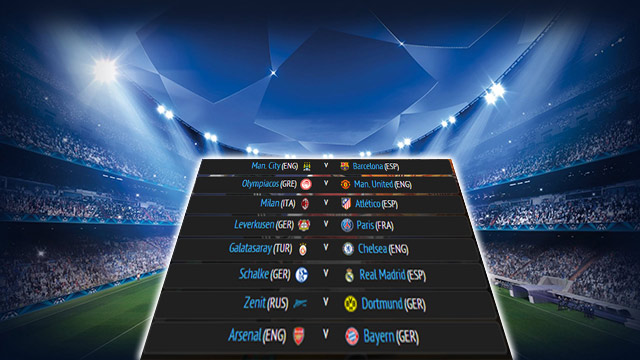 Teams who finished as group runners-up will host the first leg encounters on the February 18/19 and 25/26, while the second legs take place on March 11/12 and 18/19.
Arsenal – Bayern
The current European champion, just like last season, the knockout phase opens against Arsenal, which in Naples lost first place in its group and so went to second pot of teams ( Second placed teams) .
Last season Bayern Munich's Jupp Heynckes led Germans to 3-1 win in London.
However, three weeks later the English team was a step away from the sensations as they had 2-0 in Munich and five minutes to score a third Bayern goal. However, the Bavarians managed to defend one goal difference and make the first step towards the title.
"We know how difficult rival will be Arsenal, one of the most difficult that we could get. There are no weak opponents in the knockout rounds, and it's good that we play the second match at home," said Karl-Heinz Rummenigge.
Manchester City – Barcelona
Derby match, Barcelona had no luck! City group finished on second place behind Bayern, but Pellegrini's side was only one goal short against the Bavarians to grab the first place. Barcelona wins, but it is far from the old, dominant Barcelona.
Neymar is getting better, but Lionel Messi is once again injured and it is doubtful that he will able to play against Man City who is led by Pellegrini, a great coach who knows Barcelona since Pellegrini last season led another Spanish club, Malaga.
Bayer Leverkusen – PSG
"We were lucky," said Leverkusen's team after the draw in Nyon since they avoid all the favorites of the competition. However, PSG this season stormed trough the group in which were Olympiakos, Anderlecht and Benfica, while Zlatan Ibrahimovic has already scored eight goals in the Champions League.
Galatasaray – Chelsea
Jose Mourinho wished for the return of Didier Drogba at Stamford Bridge, and indeed, the Ivory Coast striker will return to London, but playing for Galatasaray who in the group stage in the last round knocked Juventus with a goal of Mourinho's another former player Wesley Sneijder.
Turkish club is led by Roberto Mancini, the coach which Mourinho who has succeeded back in 2008 on Inter Milan's bench. This will be the first meeting between these two clubs.
Zenit – Borussia
"We've never played against Zenit, but this is not essential. I Believe that until the match with Zenit we will be in better shape, and it is a good thing that we play the second match at home." said Hans-Joachim Watzke, ex-president of Borussia, who back in 1997 have won the Champions League with him on the tron.
Schalke – Real
Cristiano Ronaldo and Real have got a good draw. They managed to avoid City, Arsenal and AC Milan, and will seek the quarterfinals against Schalke who is not brilliant this season and it's only the sixth in the Bundesliga. Cristiano Ronaldo plays in incredible shape, and Gareth Bale adapted to Real Madrid style.
Olympiakos – Manchester United
AC Milan – Atletico Madrid