Champions league Quarter-finals draw for season 2014/15 was held this Monday in Nyon, and by far the most exciting match will be the one between the Premier league Champion, Manchester City and Barcelona.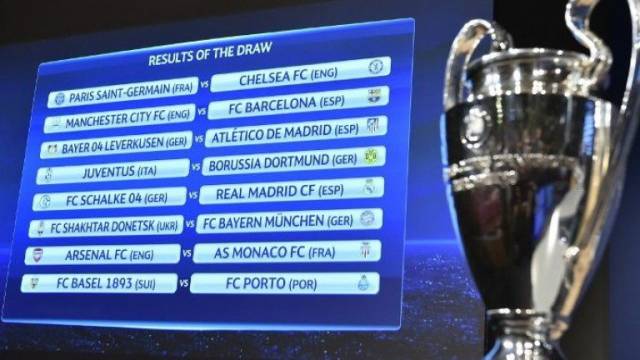 Manuel Pellegrini's side only in the last round of the group stage sealed their place in the Round of 16. It was in Rome with a 2-0 win. Barcelona on other hand progressed from the first place after the home 3-1 win over the French Champion, PSG. For the second successive season these two will met, as Barcelona in the knockout stage in 2013-14 recorded a 4-1 win on aggregate over the Citizens, result with which the Catalans booked their ticket for the quarter-finals.
Manchester City surely would look to take one over Barca and eye a revenge, while Barca boss Louis Enrique warned his team about tought clash vs Citizens.
They are a tough opponent, in principle one of the hardest we could have faced and one of the main candidates for the title," he told a press conference.
"I am sure it'll be a very hard match. The important thing in games like these is for us to be in good condition. If we're on form, we are good enough to cope with any competition.
"I always think positively, and I know we are quite capable of getting through the round against Manchester City."
Another big clash awaits Zlatan Ibrahimovic and his PSG who will face Chelsea FC led by Jose Mourinho. It will be a reunion between Ibrahimovic and Mourinho from their days back at Inter Milan. These two teams also met already, it was last season when Chelsea with Demba Ba's goal sealed their semi-final place.
"Obviously they are known to us as we played them last year and the added ingredient of David Luiz playing for them
"I know Jose said before the draw he would have liked them because of the logistics and he's right.
"I think when we played them last year both teams now have totally different teams we have an advantaged by being away first so we know what we have to do the second leg
"I think that's basically the past, each match that comes along is a totally different scenario so we will take it from the start ", said PSG boss, Blanc.
More exciting encounters Quarter-final brought, as Arsenal led by Arsene Wenger will face the French side, AS Monaco, the club with which Wenger has won his first trophy in his coaching career.
AS Monaco midfielder Jérémy Toulalan believes that his team has at least 50% chance to knock Arsenal…
"The Arsenal players are technical and quick. It will be really difficult."
"We'll go to the Emirates with our weapons calmly," he continued.
"We're not a team that's easy to breakthrough. We'll be fresh and we'll have no pressure on us."
Arsenal secretary David Miles said that his side won't take Monaco for granted..
"We are delighted to be here when you consider its 17 consecutive years in the Champions League it's a fantastic achievement for Arsene Wenger and the players. We are very much looking forward to the game and being at the top table of European football
"We have picked some of the biggest teams in Europe over the last five years. We aren't taking anything for granted, Monaco have earned the right to be here.
"All the fans have high expectations as you rightly say it will be great to at least get through this round of 16 and press on and kick on from there
"Overall we're taking nothing for granted but we are pleased with the draw."
Borussia Dortmund will face the Italian champion, Juventus, which would be a replay of the Champions league final from 1997., when German side with 3-1 defeated Juventus.
The Bianconeri director, Pavel Nedved believes that Dortmund is not bad draw for his team …
"We have to be very careful because Dortmund have young, talented players. It could have been worse because there was still Bayern and Madrid when Borussia's name came out. It will be a very even tie," Nedved told the official Uefa website.
"There are a few teams who are almost impossible to compete with, so we are happy to have a side against whom we have a chance.
"I'm a big fan of Jurgen Klopp and I'm curious to see our level in Europe. The games against Dortmund will give us a clear indication of that."
FC Basel after knocking Liverpool FC with a 1-1 draw in England will face Porto FC, the only team which didn't lose any game so far.
FC Shakhtar Donetsk will face Bundesliga champion, Bayern Munich led by Pep Guardiola, while another German club, Schalke 04 will play against the reigning Champions league winner, Real Madrid.
Bayern Munich players are confident of reaching the semi-final stage ..

Philipp Lahm : "Donetsk are certainly dangerous opponents, but despite that, we have to make the next round," Lahm told the official Bayern website.
"Bayern's target is always the quarter-finals."
Arjen Robben: "I think it's good we have something different and not Arsenal again…" he said.
"We'll have to watch out, they have a few really good Brazilians. We'll analyse our opponents closely and concentrate hard. If we do it should work out."
Franck Ribery : "It could certainly have been worse, but let's be cautious. Donetsk are strong," he added.
"However, provided we concentrate and dig deep I'm confident."
Third German club, Bayer Leverkusen will face the Champions league runners-up and Diego Simeone's team, Atletico Madrid.
Group toppers will play the first match at home on 17/18 and 24/25 while away matches are on schedule for 10/11 and 17/18 of March.