With the departure of Villas Boas, reborn Chelsea is very close to the placement in the semifinals of the Champions League. Victory by 1-0 in Lisbon can be a capital advantage for "Blues", but far from being all decided. Benfica is playing great football this season, with a distinctive attacking style which however failed in the first meeting. If the Portuguese going to be on their level, at the Stanford Bridge ahead of us is a genuine spectacle, worthy of the Champions League quarter-finals!
Chelsea boss Roberto Di Matteo rejects any possibility that his team solved the question of passage in the first match: "It was just the first half we got. Up to placement in the semifinals is still a long way. "Obviously the Italian is afraid of relaxations which could be fatal for London club.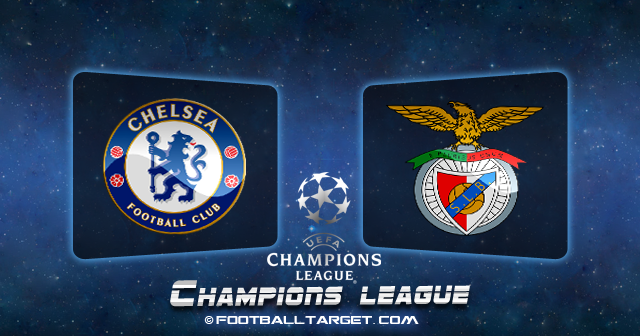 Ever since the WBA beated Chelsea and due to that it was sacked Andre Villas Boas, London club started to shine. In the next 8 games they enrolled 6 wins, there are step up to the semi-finals, and even preferred the fourth position of the Premier League, does not seem so far away now.
Does the young Portuguese was so bad coach, or an Italian one is so good? Probably neither, simply Chelsea has fund of experienced players who were difficult to accept the authority of coach which have same age like they fo, and behind it has no football career.
Di Matteo was the authority in the field, obviously, he is now in the locker room, and he knows that every victory they realize, its percentage more,that from his coaching title disappear it "temporary." In Lisbon, Chelsea won with 1-0 Benfica (video), which means that today there are no calculations, the Portuguese have to repay.
Chelsea have won every home game in the Champions League this season.
The Blues have scored 14 at Stamford bridge, while conceding just once, the least of anyone in the tournament.
The first leg, in which Di Matteo masterminded the Blues to a 1-0 victory, was the first time that Benfica failed to find the back of the net in the Champions League this campaign.
What they are saying..
In an interview with Chelsea Official page Chelsea Roberto Di Matteo,midfielder Ramires and defender Ivanovic all agree that home match with Benfica will be a huge one,and that they need to play well to confirm placement in semi-finals.
'A 1-0 lead is basically nothing and our players are aware of this,' says Di Matteo.
'We have to go into the game with the right attitude, the same attitude as we had against Napoli because we have to win the game to qualify.
'This tie is far from over and Benfica have scored in every away game in this Champions League season so we know it is a difficult task ahead, but this Chelsea team has enough experience to deal with pressure, they have experienced a lot of games like this and can raise their game to perform in these pressure games. They are used to it.'
'I didn't think it was a brave selection, I thought it was the right selection with the players that we had available and for the game we had to play away,' he says.
'Tomorrow the selection will reflect the players who are in best form and shape to play against a strong Benfica side.
'Benfica will have to try to win the tie so we expect them to play attacking but they won't go crazy, we expect them to retain their style.
'The fact we are winning games helps improve the confidence in every individual player and in the group, so I keep communicating with the group and the players and we hope that allows them to play to the highest possible level.
'It is important for us to perform in every game now and we are pleased that the wins come with a good performance. We have put a great performance on to overcome Benfica.'
'It will certainly be a difficult game,' Ramires confirmed. 'We have an important advantage from the first game, obviously, but we have 90 tough minutes in front of us and we are going to face a serious challenge tomorrow.
'When facing Benfica you know they will come out motivated and do everything to win. Despite the disadvantage from the first game I am sure they will do everything to stop us.'
'We went through a tough phase obviously and we took strength from this, and found new confidence after the change,' he explained. 'Roberto has instilled great confidence in us and we have begun to realise again we are a great team with great players, and have built from the first victory going from strength to strength.'
'I have never previously had an opportunity to play against a team I played for before,' he revealed. 'It was a strange feeling last week and the Benfica fans showed a lot of affection during the last game.
'Today though I am a Chelsea player and I hope tomorrow I can do everything I can to help Chelsea beat Benfica.'
Branislav Ivanovic
"If people think like that, it can be good for us because we feel less pressure, which in games like this can be very important."
"But Wednesday is a huge game for us. It`s a big opportunity."
"We`ve got a great result in Lisbon, but it`s not over because they don`t have anything to lose."
"They played very well in the first game so it will be difficult. We have to be careful."
Team news :
Chelsea footballers David Luiz (ankle) and Didier Drogba (toe) are doubtful,and its probably that they will be replaced with Cahill and Sturridge.
Benfica Defenders Ezequiel Garay, Jardel and Miguel Vitor are going to miss this match with injuries.
Probable lineups
Chelsea : Cech;Ivanovic, Terry, Cahill, Cole;Lampard, Essien, Ramires;Mata, Torres, Sturridge
Benfica : Artur;Maxi Pereira, Luisao, Javi Garcia,Emerson;Matic;Bruno Cesar, Aimar, Gaitan;Cardozo, Rodrigo
Prediction
As we saw from the first match,there will be a lots of chances for both team.Attacking style which Benfica prefers could be something for Chelsea to worry and take extra care,as Benfica already this season demonstrate,they keep their game style the same even on away matches,and they can score on English gournd as they shown in match with Man Utd.However,if Chelsea players manage to dictate tempo,there would probably win and place themselves in semi-finals,but if they failed to do that,it would be exciting match with lots of chances for both teams.So,both teams to score.
Watch Highlights Chelsea 2-1 Benfica here