Real Madrid have booked their place in the Champions league final with a 4-0 away win over the current champion, Bayern Munich, and the second match this Wednesday will give us an answer with whom will the Spanish side play. Will that be the Spanish final, or Chelsea can defeat Atletico at home and book their place like a two years ago when the English team have won the Champions league trophy.
Watch Chelsea FC vs Atletico Madrid Match Highlights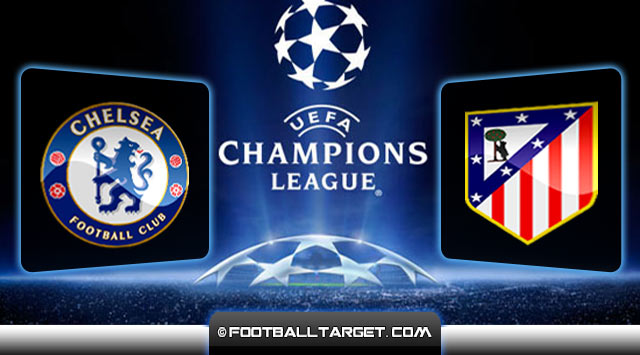 Recent history, tell us that the team which defeats Barcelona, wins the title, but after a first game everything is open for both teams at the Stamford Bridge. First game in Madrid ended with an unpopular 0-0 result. Chelsea practically parked a bus behind leaving Atletico without some big chanches. The same Jose Mourinho's men did this weekend at Anfield and came to a 2-0 win over Liverpool. Situation now is something different. Chelsea have to win if Atletico scores a goal, otherwise we will watch the Spanish finals due to away goals.
Mourinho led so far his teams three times in Champions league final, won it twice , with Porto FC and Inter Milan. If he manage to win the UCL competition with Chelsea, he will become and the first manager who manage to do so. It's hard to predict what Mourinho will decide regarding his team tactics, in this situation where only a win would be a safe way for Chelsea to reach their second finals in two years.
On the other side, will stand a superior Atletico Madrid led by Diego Simeone whose team plays like he played, strong ! Atletico Madrid currently occupies the first place in the Spanish La Liga. Something which no one could predict ahead of the season start, especially when we know that two giants like Real Madrid and Barcelona are there. Still, Atletico did not stop there, possibility of the UCL final, is very close for the Spanish team. Results which brought a joy to their fans.
Last weekend Atletico Madrid passed and another difficult task, by beating Valencia away, which made it nine straight league wins, while Chelsea shocked the Anfield and complicated the race for the Premier league title. According to Mourinho, Chelsea doesnt stand a chance to win the league title, and their whole focus is so turned to Champions league. Stamford Bridge still is shaken up by Sunderland's defeat which ended Chelsea title hope.
Mourinho : " Any side who could potentially win La Liga ahead of Real Madrid and Barcelona this season, deserved my respect."
Speaking of the team news, and tactics, Chelsea have much more injury problems as Eden Hazard, Samuel Eto'o, Frank Lampard, John Obi Mikel, Petr Cech are sidelined while January signings Nemanja Matic and Mohamed Salah are ineligible . It's expected that Fernando Torres starts the game against his former club.
Diego Simeone for Atletico Madrid possibly the second final ( first it was back in 1974 ) cant count on Raul Garcia.
Team Probable lineups
Chelsea : Schwarzer – Ivanović, Cahill, Terry, Azpilicueta – Ramires, David Luiz – Schurrle, Oscar, Hazard – F.Torres
Atletico Madrid : Courtois – Juanfran, Miranda, Godin, Filipe – Tiago, Mario Suarez – Koke, Diego, Raul Garcia – Diego Costa
Chelsea favourites to reach Champions League final – Deco
Difficult but not impossible for Chelsea to win Champions League – Deco