[wptab name='Match Preview']
Jose Mourinho's me must overturn a two-goal deficit in the Champions league quarter-finals second leg match, to reach the Champions League semi-finals. Psg will be without their key player Zlatan Ibrahimovic, and Chelsea once again will have to repeat a feat they achieved against the Italian side, Napoli on their way to lifting the trophy in 2012.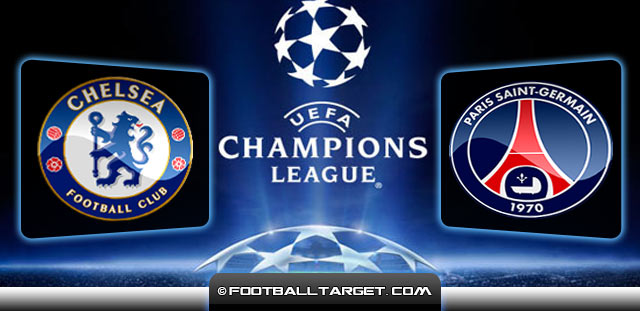 Last minutes goal in the first-leg match, has put the London side into difficult position, which now at the Stamford Bridge needs to overcome again two-goals behind. The French side celebrated a 3-1 win , thanks to David Luiz's own goal in the last minutes. Still, the Champions league winners from 2012 have managed to book their place into the next stage once before, despite trailing behind by 2 goals. Chelsea lost to Napoli 3-1, but in England the Blues progressed after extra-time following a 4-1 triumph.
Chelsea bounced back after the UCL defeat, with a home 3-0 win over Stoke City, and the team morale is once again up . The Blues are still in the hot run for the Premier league title having two points less than the league topppers, Liverpool. Mourinho and his players are confident that Chelsea can reach the Champions league semi-finals. The home stats so far this season, show that the Blues are practically unbeatable team at home. On the other side, knowing the home record of Chelsea , PSG manager , Laurent Blanc doesn't intend to make a defending formation, and aims to surprise Chelsea with attacking display.
Dominace in French and the top spot Blanc used to rest some key players for this game, and the French team still entered a 3-0 home win over Reims. Now Lavezi, Matuidi and Thiago Motta will be back, and Blanc believes that Chelsea will open up a space which Lavezzi could use.
"I've always believed that the best defense is attack. We wont come here to park a bus. Characteristic of true team is dictating of the pace, regardless of away or home ptich." ​​
"We cherish attacking mentality and I will be happy if we thus qualify among the four best teams in Europe. Chelsea on the other hand are a great defensive team. They are very compact and dangerous, but you saw how it ended at Princes Park. We created a lot of problems to them ."
"I expect from Chelsea at Stamford Bridge to open up, and we have a solution for it. Without any doubt player like Lavezzi can take advantage of the empty space that will be open behind. No doubt that Mourinho has a great team, but I believe that PSG will reach the semifinals. It Would be a great thing for our fans and the French football."
On the other side, the charismatic Chelsea manager, Jose Mourinho believes in success, but he urges his player to focus and to believe in themselves.
" I've done more than 100 matches in the Champions League , but I really do not know which way will go this one tomorrow . Players must show their quality , confidence and ambition , these are things that must at all times be at the highest level ," said at the conference Jose Mourinho , but then he offered and the match prediction .
" I think we'll win at the end and we will score more goals than them . "
"We are going to score more goals than them. By the end of the two legs it can be 4-3, 5-4.
"I believe, and my players believe, that is the most important thing."
For the last thing the Portuguese left his famous " mind game approach " : " If PSG falls tomorrow , it will be a big disappointment for them . If we fall out , it will be something that many had expected . "
Chelsea captain, Frank Lampard added :
"We have to be positive, and go on to win. With the team we have, certainly we can celebrate with a two goal difference."
"But we should not be too confident in it, it is about finding a balance. We need to suppress the feeling of catching two goals down, from the first minute and be calm " , said Lampard, whose goal against Stoke City was his 250th for Chelsea.
Jose Mourinho in the second-leg match against PSG due to suspensions cant count on Ramires,Mikel Obi and Eto'o while Matic and Salah are not eligible to play in the Champions League for Chelsea.
Team Probable Lineups
Chelsea FC : Cech – Ivanović, Terry, Cahill, Azpilicueta –David Luiz, Lampard – Willian, Oscar, Hazard – Torres
PSG : Sirigu – Jallet, Alex, Thiago Silva, Maxwell – Verratti, Thiago Motta, Matuidi – Lucas, Cavani, Lavezzi
[/wptab]
[wptab name='Video News']
Injury doubts for Chelsea ahead of PSG clash
Samuel Eto'o trained by himself ahead of Chelsea's UEFA Champions League second leg with Paris St Germain.
Injury doubts Eden Hazard and Andre Schurrle linked up with their team-mates as they try to overcome a 3-1 deficit on Tuesday night.
French public are behind us – Matuidi
Paris Saint-Germain midfielder Blaise Matuidi says the French public are hoping PSG can reach the last four of the Champions League with victory over Chelsea.
PSG will 'take the game' to Chelsea
Paris Saint-Germain manager Laurent Blanc says his team won't approach their UEFA Champions League second leg with Chelsea simply looking to defend their 3-1 lead.
We must learn from first leg – Blanc
[/wptab]
[end_wptabset]