A brilliant player, the number one star in Portugal and Spain, the part related to Real Madrid fans and probably more,the current top scorer of the Spanish La Liga, scorer of plenty amazing goals in his football career, winger who scored 100 goals and more in his time in Manchester United, scorer of even more goals for Real Madrid. So what's up with the world, and why do people hate/dislike him so much.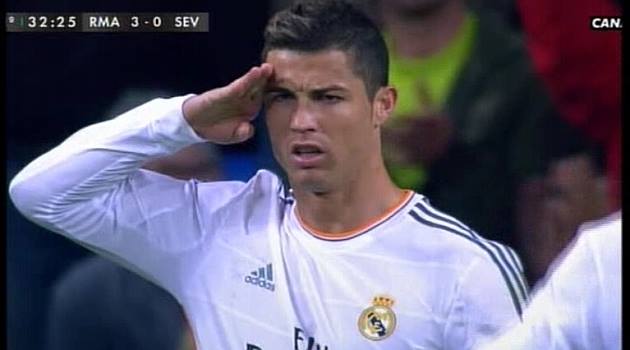 Screenshot: Youtube
Well, i'll be honest, Cristiano is not my favorite player, hate me for saying so (to Cristiano fans), but i think i do have the right to pick my favourite one. Still, recently I come across to several news related to Cristiano Ronaldo, and guess what ? Neither of them were a positive ones. So i decided to look up over the internet and investigate, what is it with world to hate such a player. To my surprise, Google has a tons of related search queries, quite a shock for my start. By carefull reading I manage to gather a lot of information from various website, so i decided to point out only to one which were repeated many times.
The famous Wink – which followed Wayne Rooney's sending off in the 2006 World Cup quarter-final, was unacceptable.
The Real Madrid-bound star got involved in a tussle with Rooney after the stamp on Portugal defender Ricardo Carvalho, before winking at his bench after the England striker had been red-carded.
"Sometimes you do things because emotions are running high but Wayne is my good friend," Ronaldo told News Of The World.
"I can't regret it because I think the whole experience made me stronger.
The Real Madrid long saga ( Transfer from Man Utd)
An affair so desperate that even Darren Day would consider it demeaning, Ronaldo and Real Madrid's 'will they/won't they' carry on is the longest running.
This saga received a part two this summer, when Ronaldo prolonged signing of new contract with Real Madrid, and transfer rumors started to spark. Real Madrid fans were very frustrated as Ronaldo decided to go with silence trough the summer while offers from PSG, Monaco, Man Utd landed on his table. Drama which neither fan wants to go trough with his club and best player.
Let's get a little back to my research, and results ..
Real Madrid forward Cristiano Ronaldo thinks he knows why opposing fans boo and whistle at him during games.
"It is because I am handsome, rich and a great player, because I am envied. I have no other explanation," he told Marca.com
On question , which top players have caught his attention this season.
"Myself, in the mirror," he replied.
Man Utd

Real Madrid

Doesnt track back and doesn't play for the team
Gets all the credit
Trying to play Real Madrid and United off each other to make more money
Hides in big matches often
Sick of hearing about him
People think he doesn't deserve to be the best player in the world and that he is overatted
He is a primadonna
He played for Man United who are hated by most other supporters
He earns more in a week than most do in a year
He isn't a 'man's' player
Love-to-complain nature
He's an eccentric
(Video from Portugal 1-0 Sweden FIFA World Cup Qualifying )

Too much fancy tricks annoys people and aggravates opponents
Whines about decision
If you take your time and search about these, certainly you will find it over internet, but i don't want to lose focus with it. Let me go once again a little back, but this time to the start of this article, and what I did read about Ronaldo recently and what catched my "eyes" exactly.
Probably we all have seen , Sepp Blatter´s speech where he makes fun of Cristiano Ronaldo, and picked up Messi for his favourite.
We didnt have to wait for a long time for Ronaldo´s reaction, the soldier !
The former striker, coach and sports director of Real Madrid, Jorge Valdano has caused a storm with his statement about Lionel Messi
"Messi is the best and the second best is injured Messi," said the former Real Madrid striker, the Argentine Jorge Valdano.
On the other hand, Barcelona legend Johan Cruyff, who is known as the great critic of Ronaldo said it would be bad for the World Cup in Brazil that Portugal and its biggest star doesn't reach it.
"It's a shame that in Brazil we wont watch one of the two best players in the world – Ibrahimovic or Ronaldo. I do not prefer any of the two, they are different types of players, but if I had to choose, I'd prefer watching Ronaldo in Brazil, "said the big Dutchman.
Zlatan Ibrahimovic, ahead of first match between Portugal and Sweden
"I think the World Cup needs me more that Cristiano .Excitement that I bring to the game and how i score goals, in that no one can compete with me: I respect Ronaldo as a player, there is no doubt that he is one of the best, but I think the fans want to see me in Brazil, more than anyone, " said Ibrahimovic.
"I just need to make sure that in the next two games he is the one who will miss the World Cup, not me," added popular Ibra.
If we take a look in Portugal, this is what currently happened
The Portuguese footballer Cristiano Ronaldo for the second year in a row has not been declared for the best athlete of his country. This individual award for the 2013th went into the hands of Rui Costa the cyclist of Movistar, the current Road World Champion ..
If we add here, all those awards when Cristiano at the end was left behind Messi, things get much serious.
So, to bring this story to the end, what's up with all these hatred towards Ronaldo ? Maybe people just got used to mock Ronaldo, and this started even before he became famous.
At a younger age, Cristiano revealed he was often ridiculed for his accent. He claimed he nearly quit football because of it. He said he "felt like a clown", and admitted, "I cried with shame." Now if I was trying to be rude, I would have said that I still think he is a clown. On top of that, I would've declared that I feel, had he stopped playing football, the world would be a better place.
Once again , why do people hate Ronaldo ? Is it because of his metrosexual style ? David Beckham had one too, and not so much haters. Jealousy? According to Google more than a few millions people associate Ronaldo more with his skills of diving, winking, crying, whining, and arrogance. Let's be honest, even if you are a huge Cristiano fan, you have to admit: if another player did such stuff, you would hate them with all of your heart because it tarnishes the image of the beautiful game. Still, Messi, Ronaldo, Ibrahimovic, Ribery, why to point fingers towards any of them when we  just can be glad that we have a chance to watch them play ?!
Do you know that Cristiano Ronaldo donates to poor,  that he donates his blood regularly, that he supports Palestine children, or, that he donated to the physical rehabilitation programme of the International Committee of the Red Cross (ICRC) in Afghanistan ? So , how can anyone hate him knowing what he does off the pitch , while on the pitch he is often a scorer of amazing goals in which we all can enjoy!
Be sure to check back as we plan to cover Why do People hate Lionel Messi ?
Let us know what do you think about Cristiano Ronaldo ?
Want to write your own article, and get published here. Contact  us
– This article is written by Robert Hosp and it doesnt represent Footballtarget.com opinions officially.