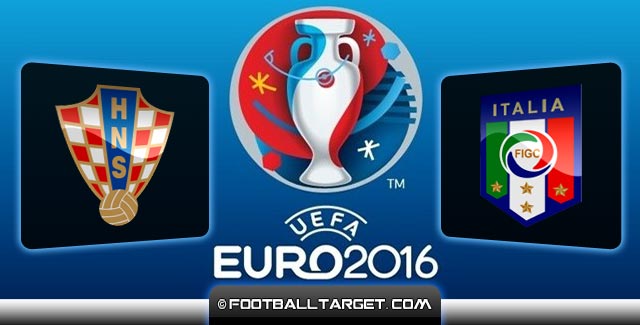 EC QUALIFICATION
June 12, 2015 • 19:45 • Stadion Poljud, Split
Referee: M. Atkinson
Match Highlights & Full Match Replay – after the game end
Top European leagues have ended, but the players, at least the ones which play for their national teams will not get a rest, not for now as Euro 2016 qualifications are back, together with the Copa America 2015 which starts this Friday in Chile.
Top two teams of group H are set to clash in Split at Poljud this Friday where Italy will look for their first win over Croatia. In the last seven mutual matches, Croatia celebrated three times, while four times it was a draw. Exactly a draw was and in the last game in Italy on November 2014, when the Croats were a much better team, but the Italians managed luckily to grab a draw. What's important regarding this encounter is that Croatia fans have tried to end the match by throwing flares. Match was suspended for 20 minutes and the Croats have received a ban of playing against Italy without fans.
A big blow for Croatia who's fans are one of the best, and even the biggest blow for the citizens of Split which finally "got" a game of their national team in Split. There is a funny fact which suggest that Croatia have played more games in London that in Split, for which fans are not happy.
Anyway to return to the game. Croatia missed a big chance of winning in Italy and making a much bigger gap in Group H, but now all is open as Croatia sits on the 1st place with 13 points, while Italy sits on the second with points less. In the same group from the teams that could possibly get involved in a fight for the top 2 places is Norway who sits on the third with nine points. Croatia has everything in their hands, a win against Italy would boost even further their chances of securing the Euro 2016 competition, but of course all this is far from over and the Croats still have a lot of work to do.
Croatia after playing 1-1 in Italy smashed at home Norway 5-1 while Italy in the same round played a draw against Bulgaria away, and that explains a 2 points gap. Since the top two placed team practically will secure the Euro 2016 place in France, both Croatia and Italy stand as the biggest favourites for that.
Regarding available teams, Croatia Boss Niko Kovac will miss a lot a superb Real Madrid's midfielder Luka Modric, while the key player in defence Vedran Corluka is suspended (red card). Recently Champions league winner with Barcelona, Ivan Rakitic has joined the team in Split so Kovac doesn't have any more injury problems besides these two. Croatia striker recently linked with Manchester United's move Mario Mandzukic is fit for this game and will start from the first minute.Panathinaikos' defender Gordan Schildenfeld most likely will replace suspended Corluka as Liverpool's Dejan Lovren is doubtful to start (injury), while Inter Milan's Brozovic most likely will take Luka Modric's place in midfield.
As for Italy, Antonio Conte is hit as well with some major injury problems but the good news is that Andrea Pirlo will play. The list is quite big, Chiellini, Barzagli, Antonelli, Montolivo, Poli, Rossi, Eder and Zaza while even the GK Buffon is having some problems but most likely the Champions league finalist will play. Despite injury problems, Conte has a strong team which could stun the Croats at the empty stadium.
Croatia probable lineup: Subašić – Srna, Vida, Schildenfeld, Pranjić – Brozović, Rakitić – Perišić, Kovačić, Olić – Mandžukić
Italy Probable lineups: Buffon (Sirigu) – Astori, Bonucci, Ranocchia – Candreva, Marchisio, de Rossi, Verratti, Darmian – Gabbiadini, Pelle