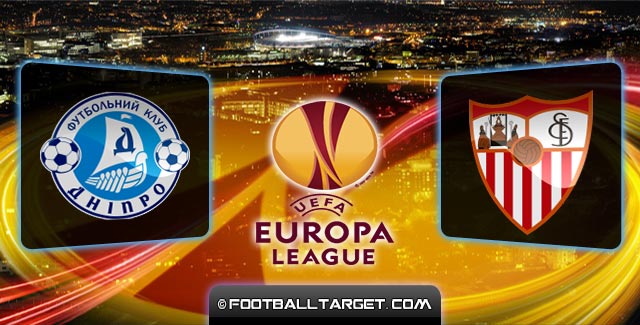 UEFA EUROPA LEAGUE
May 27, 2015 • 19:45 • Stadion Narodowy, Warszawa
Referee: M. Atkinson
Dnipro – Sevilla Live Streams
Watch Dnipro vs Sevilla Highlights 
Watch Dnipro vs Sevilla Full Match Replay
This Wednesday in Warszawa on schedule is Europa league final where the last year winner, Sevilla will try to defend the title and to grab the Champions league place after failing to do the same trough the Spanish La Liga Competition. If Emery's men manage to win title again, Sevilla will become the first team in history which seized the title four times.
Spanish side in front of them have the biggest Europa league surprise, the Ukrainian Dnipro, who playing a perfect defense trough this competition booked their place in Europa league final. Last week both team enrolled 3-2 wins, but unlucky for the Spanish side it wasn't enough to book the Champions league place. On the other side, Dnipro still have an opportunity so seize the second place and to qualify trough domestic competition for Champions league competition next year. All this suggest how high the stake in this game really is.
On their way to Europa league final, Dnipro eliminated some big teams like Olympiacos F.C, Ajax, Club Brugge and Napoli in the semi-final match with a total of 2-1.
In Ukraine domestic competition most likely Myron Markevych's side will remain on the third, so a win against Sevilla tonight is a must do thing to book the Champions league place next year. Interstingly, Dnipro this year started their Europe campaing in Champions league but already in the Champions league qualifications, Markevych's side was knocked, so Dnipro had to play Europa league qualifications as well.
Problem for Dnipro is a tough schedule this month in which they have had to play three times against Shakhtar Donetsk, twice against Napoli who sinked Germans side, Wolfsburg, and once against Dynamo Kiev. Accumulated fatigue from all these games, certainly could play a major factor with injuries of Serhiy Kravchenko (knock) and Roman Zozulya (knee) who is a doubt for this game.
Dnipro Dnipropetrovsk trained at Warsaw's National Stadium on Tuesday (26 May), a day before the Europa League Final against holders Sevilla. The Ukraine club's coach, Myron Markevych, earlier admitted his players are "nervous", while midfielder Valeriy Fedorchuk addressed the delicate political situation in his home country.
Dnipro probable lineup: Boyko, Matos, Douglas, Cheberyachko, Fedetskiy, Fedorchuk, Kankava, Konoplyanka, Rotan, Luckhevych, Seleznyov
Sevilla last season won the Europa League and then sold off at least a half of their team. Expectations for the new season were not great, but coach Unai Emery once again proved his brilliant talent and has made a powerful team.
Despite great performances in La Liga, Sevilla ended on the fifth place having only one point less that the fourth Valencia, meaning that the first "match point" was lost and that the second one Emery's men will have tonight against Dnipro.
In the knockout stages Sevilla enrolled seven wins and one draw,against some quality teams, like Borussia (M), Villarreal, Zenit and Fiorentina. Against Malaga last week Emery gave a rest to some players, saving them for this clash but still he can't count on Sebastian Cristoforo Dani,Mariano Barbosa while defender Parejo (knee) remains doubtful.
By many Sevilla stands out as a favourite in this game, but Unai Emery expects 'even game' against Dnipro:
"It's only one game, and in it is all kinds of surprises can happen, the smallest details could prove decisive."
"I expect an even match in which we must be maximally concentrated."
"Dnipro is a well organized team whose greatest quality is really solid defense. Besides they know to keep the ball, be dangerous in the attack, which suggests that we expect a very difficult job."
Speaking about Sevilla's chance of entering history, Emery for UEFA.com said:
"We can't deny that we have the chance to write history. Of course we are grateful to have that chance, to be able to pursue this."
"We are aiming to achieve something with this team, with Sevilla. It shouldn't feel like pressure or stop us from executing our game plan against Dnipro. It will serve more as motivation, like a dream we can achieve."
Sevilla probable lineup: Rico, Coke, Carriço, Kolodziejczak, Tremoulinas, M'Bia, Krychowiak, Vidal, Banega, Vitolo, Bacca