Deschamps' men after two opening wins and a goal difference of 8-2 still didn't clinched the top spot, but they secured the knock out phase as only a miracle can send them home. To seal the top spot and avoid playing with Argentina if Messi and company take a draw at least today, France needs to win or to drawn with Ecuador.
On the other side Ecuador to reach the next stage need to win to raisde their chances, though draw and even a minimal defeat could place them if the Swiss lose to Honduras today.
Speaking of their mutual matches, back in 2008., France and Ecuador played a friendly game and then in Grenoble the Les Blues enrolled a 2-0 win.
Watch Ecuador – France live free online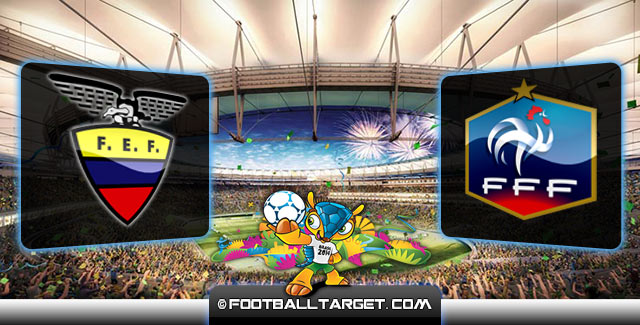 Reinaldo Rueda's men unluckily lost the opening game with Switzerland. They had a 1-0 lead, but the Swiss bounced back and with an injury goal defeated Ecuador. In the second match, Ecuador were trailing behind to Honduras 1-0 , but a fast equalizer and the second half goal brought a win and hope for the South American side to reach the knockout stage. All they need to do is to match at least Switzerland's result. As for the first team, Rueda probably wont change a lot like he didn't so far, so Carlos Gruezo in place of Oswaldo Minda in central midfield could be the only change.
Enner Valencia continued his series that he began ahead of World Cup, first he netted one to Swiss and then double to Honduras, so Reinaldo Rueda is expecting for him to continue his form against the French, as Antonio Valencia and Caicedo didn't shown a lot, but since there are no better option, they will start from the first minute. Since the injuries have bypassed Rueda's men we can expect the same team to run on the pitch . Carlos Gruezo in place of Oswaldo Minda in central midfield could be the only change
Ecuador probable lineup : Dominguez – Paredes, Guagua, Erazo, W.Ayovi – Minda, Noboa – A.Valencia, Montero, E.Valencia – F.Caicedo
Selection of France in the first two rounds of the group stage have shown the most of all teams in this World Cup. They scored eight goals, both victories were very persuasive and at no moment win did not come into question.
It can be said that they didnt had strong opponents and we have to agree when it comes to Honduras in the first round, however, to score five goals to Switzerland, it's not an easy thing to do. And besides it, Deschamps' men are not entirely sure of placing into the next round , although practically they already secured the Group first place. Just a super convincing defeat can cost them of losing it, but it can hardly happen.
It was expected the same team to start against Switzerland, but Deschamps surprised with offensive approach when next to Benzema in attack he sent Giroud too, while Pogba remained on the bench, as well as Griezmann, which was replaced by Sissoko.
Players know their duties – Deschamps
Two attackers did a brilliant job, like the rest of the team, and the French could have scored more than five goals. Given that they almost completely sure of reaching the knock out phase, it's possible that Deschamp now will mix a team little.
Midfielder Cabaye has already received a second yellow card he probably will be on the bench, so Mavuba could replace him, while the rest could get Valbuena, Sakho and Debuchy, and Griezmann, Koscielny and Sagna instead of them will be in the first team .
France probable lineup : Lloris – Sagna, Varane, Koscielny, Evra – Sissoko, Mavuba, Matuidi – Griezmann, Giroud, Benzema
Match Prediction : Ecuador needs to score to be sure, and the attacking approach could leave France a lot of space for the counter attacks, which means we could see a lot of goals. Over 2,5 goals