Wankdorfstadion — Bern
England vs Italy Match preview,live stream,lineups,prediction
August 15, 2012 Kick-off: 21:00
In this friendly meeting, which will be played on neutral ground in Switzerland, Bern, strenght will weigh two selections that have recently met in the quarterfinals of the European Championship in Ukraine and Poland, where with a little more luck Italy celebrated after the penalty shootouts.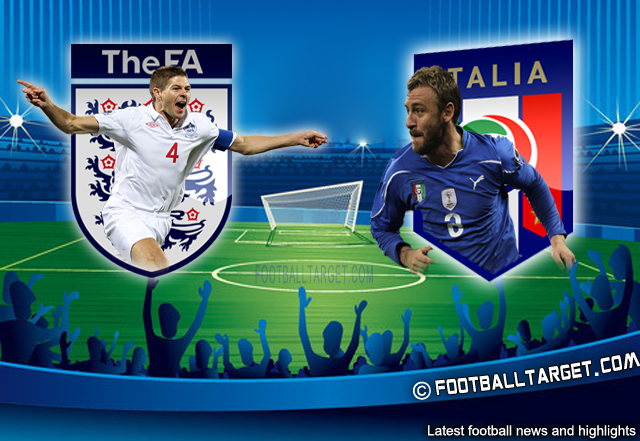 In the regular time there was no goals,which again is not surprising too much if we know that the stakes were really high. This match and the Italian victory with the previous two in this decade,just shown that these Italians victory were not at all some accidental.
Of course Englishmens are known as the traditionalists and will not so easily forget these defeats , despite the fact they occurred more than a decade ago, but the last was is really fresh and had led to their elimination from Euro 2012 which certainly would be a sufficient motive for revenge to the Italians.
However, judging by the team and players which for this meeting called the coach Hodgson, we could expect a slightly different game than the one which England presented at Euro 2012, which means they will be very agile and will have a quick defense, with much younger players, while this time in the attack should get a chance young Carroll.
We believe that all are wondering where is Rooney, but he along with the several other senior players like Terry, Gerrard, Cole, Parker and Lescott, have not even received an invitation for this match, while defender Johnson and goalkeeper Hart are injured.
Perspective Norwich´s goalkeeper Ruddy will replace Hart, while the last and eternal reserves Baines and Walker will finally get a chance to play, and Cahill – Jagielka will probably be a central defenders pair.
We have already said that the most experienced midfield somehow, so it will be the central figure Lampard Chelsea, will be in charge of defensive returnees Carrick and Rodwell, while the fleet-footed wing administered Walcott and Young, and is expected to exceed the minutes of Adam Johnson.
We have already said that the most experienced part of this team is midfield somehow, where the central figure will be Chelsea player Lampard, for the defensive returnees will be in charge Carrick and Rodwell, while the fleet-footed wings will be Walcott and Young. Adam Johnson should get more minutes to play.
England probable lineup : Ruddy – Walker, Cahill, Jagielka, Baines – Carrick, Rodwell – Walcott, Lampard,Young – Carroll
Italy team preview
Just like the English, and the Italians after the desperate match in the Euro finals, where they were defeated with even 4-0 from Spain (Full match video), decided on a great rejuvenation of representation, which in turn should not create some problems , since it is already known that coach Prandelli is a very convenient expert who always knows how to get the maximum from his players.
So this time also is expected that "Azzurri" continues with similar games like on the Euro 2012, which means with a lot more offensive approach then we used to see them in the past, but again they must be now much more aggressive and more determined in defense, to avoid mistakes from the match with the Spaniards.
That is why coach Prandelli decided to try with younger players, like Abate, Ogbonna, Astori and Balzaretti, while there will be change at the the goal as well where now should stand PSG's goalie Sirigu.
However, this does not mean that in the Italian camp they have definitely gave up on experienced players from Juventus, led by goalkeeper Buffon, as well as midfielder Pirlo, Napoli´s Maggio, Motta, and Marchisio, but for them it is very important to try out some new players who can very quickly take place in the first team.
Thus, in the midfield will play De Rossi and Aquillani, while the wings will occupy young Nocerino and Verratti , who recently made a transfer to PSG.
Also, another star of this transfer window period, young Borini who moved from AS Roma to Liverpool, should get a chance from the first minute, while his partner in the attack is likely to be Balotelli, who was brilliant on Euro 2012, but also proved to coach Prandelli that he can still be maximally concentrated on the match.
Italy probable lineup : Buffon – Abate, Ogbonna, Astori, Balzaretti – Nocerino, De Rossi, Aquillani, Verratti – Borini, Balotelli
Prediction : In this quarter-finals repetition of the last European Championship we can hardly expect a drastic change in the approach from both coaches, especially when according to the recent announcements of lineups probably for the both teams will be most important not to lose, and therefore there should not be too many goals.Under 3 goals.
Watch friendly match England vs Italy from our live streams section for free.
Watch England 2-1 Italy Match highlights and full match video as soon as the match ends at Footballtarget.com