Italy secured their place in Euro with the best defence in qualifying while  coach Cesare Prandelli their known style of a great defence and deadly counter-attacks  changed,so now they are team which are attractive possession-oriented …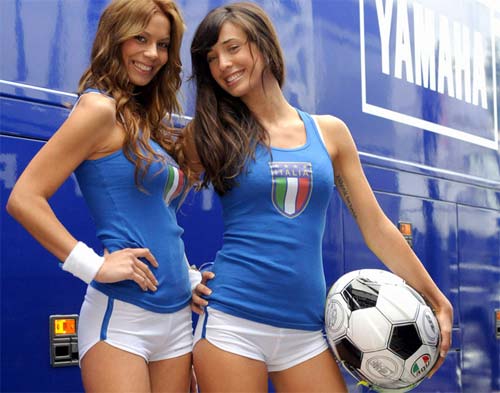 Italy´s Road to Euro 2012
The Italians have placed on the Euro as the first placed team of the qualifying group C, where in the duels with Estonia, Serbia, Slovenia, Northern Ireland and the Faroe Islands they have won 26 out of possible 30 points, entering eight wins and two draws.
After the opening two victories in Tallinn (2:1) and against the Faroe Islands, the Italians in the third round failed to win, playing 0-0 in Belfast.
Four days later due to rampage of Serbian fans, the match in Genoa was entered as a 3-0 victory for Italy, after what followed four consecutive victories of Italians against Slovenia (0:1 and 1:0), Estonia (3:0) and the Faroe Islands (1-0 ).
In the penultimate round they drew in Belgrade with Serbia (1:1), while in the last round they beat Northern Ireland 3-0.
Azzuri´s top scorer in the qualifiers was Antonio Cassano with six goals. Two goals scored Pazzini and Gilardino one, Marchisio, Motta, Pirlo, De Rossi, etc. ..
Previous performances at European Championships
Probably ,its fair to say that the Italians have under performed in continental competitions.The only time when they won the European competition was in the 1968. when they were a host.Since then they reached only twice semi-finals,and the best score in the recent time is their silver and third place from Euro 2000.
Coach: Cesare Prandelli
54-year old Prandelli had a successful football career, and he defended the colors of Cremonese, Atalanta and Juventus. 1990th he said "goodbye" to professional football, and only a few months later, began to train a youth team of Atalanta.
1997th he took over Lecce took , and already next season Verona. He led also Venice, Parma and Roma , and 2005. he became coach of Fiorentina, which he ran for five years.
After the World Cup in South Africa Prandelli got the opportunity to lead the national team. In career Prandelli has not won a single trophy in clubs football and Euro 2012 in Poland and Ukraine, is his first major tournament.
So far Italy Prandelli led Italy in 20 games, in which he enter 11 wins, four draws and five defeats.
Team star
Among Pirlo, Balotelli, and Buffon for the first star of the team,we have chose a brilliant Roma´s midfielder Daniele De Rossi. 28-year old De Rossi was born Roman who played his entire career at Roma.
In the first squad he entered in 2001. and since then he enrolled 389 appearances in all competitions with 47 goals. By the number of appearances De Rossi is currently ranked as the eighth player of AS Roma of all time, while the fourth placed Aldair he could overtake in the next season. At the top of the course is Totti with 631 match.
De Rossi has played in all age levels of Italian national team, and for seniors team he began playing in 2004th year as a 20-year-old. In the the meantime, he enrolled 71 appearance and score 10 goals.
Osmoplasirani all time in the uniform of Azzurra's 34-year old Andrea Pirlo with 82 appearances. Let us add that the Transfermarkt worth 28 million euros.
According to the Transfermarkt De Rossi is worth 28 million euros.
What to expect from them on Euro 2012
Italy will play in the standard 4-3-1-2 formation, and on the lawn it should look like this: Buffon – Balzaretti, Barzagli, Chiellini, Maggio – De Rossi, Pirlo, Marchisio – Montolivo – Balotelli, Cassano.
Defense of Italy has been further weakened by the absence of Criscito, and the last shocks associated with match-fixing scandal could lead to the debacle of the of Italian team. Although a similar situation happened before with Calciopoli 2006th when the Italians won the World Cup, the team of Cesare Prandelli in every sense, are far more than that.
Today, the Italians have only a solid team, but still there a team that can pass the group and qualify for the quarterfinals,after what everything is possible.
Italy's Euro fixtures,group C
10 June – Spain (Gdansk)
14 June – Croatia (Poznan)
18 June – Ireland (Poznan)
Italy´s list for Euro 2012:
Goalkeepers: Gianluigi Buffon (Juventus), Morgan De Sanctis (Napoli), Salvatore Sirigu (Paris St. Germain)
Defense: Ignazio Abate (Milan), Federico Balzaretti (Palermo), Andrea Barzagli (Juventus), Leonardo Bonucci (Juventus), Giorgio Chiellini (Juventus), Christian Maggio (Napoli), Angelo Obinze Ogbonna (Torino)
Midfielders Daniele De Rossi (Roma), Alessandro Diamanti (Bologna), Emanuele Giaccherini (Juventus), Claudio Marchisio (Juventus), Riccardo Montolivo (Fiorentina), Thiago Motta (Paris St Germain), Antonio Nocerino (Milan), Andrea Pirlo (Juventus).
Forwards: Mario Balotelli (Manchester City), Fabio Borini (Rome), Antonio Cassano (Milan), Antonio Di Natale (Udinese), Sebastian Giovinco (Parma)
Watch Italy´s all Euro 2012 matches from ours live stream section.
Euro 2012 : England profile preview
Euro 2012 : France profile preview
Euro 2012 : Spain profile preview
Euro 2012 : Germany profile preview
Want to add some spice on the Euro ? Bet at home is offering a € 200 bonus.Check it out.