Just few days after the mega-derby between the two leading teams in the standings, it follows a new derby match who, in addition to host which are third, and the first ,Dortmund this derby always carries a special charge.The two teams with the the most loyal fans in Germany have already played this season for a trophy, and it is the Super Cup, which was annexed to Schalke after a better performance from penalties. In the primary match in Dortmund it was 2:0 for Borussia. This will be 80th league match duel,and Borussia has only one more victory.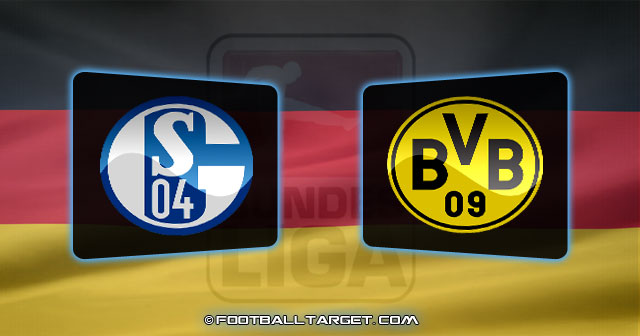 Schalke's team does not exactly welcome in a good mood this derby. On Wednesday they again played a disappointing away games, so in Nuremberg suffered a convincing defeat of 4:1 ( Full match video). It was one of the worst league defeats this season, where thy concede the most goals in a league match, which came quite unexpected, since it is less burdened Schalke could play without pressure. Felled from the European league, they achieved a convincing victory over Hannover in the previous round and firmly hold the third position, so it was expected a good Schalke appearance in this match.
The complete team failed, and Coach Stevens has made some changes in the team. Again there was no Fuchs on the left flank so Escudero played, amd a surprisingly Hoogland played on the right side and was the weakest player in the team. J.Jones returned, Holtby was in, but there was no Farfan. At halftime, when it was already 3-0,Pukka and Farfan were sent into a game, but over Holtby they managed to score only an honorary goal. For derby Stevens will not experiment, and except for the two goalkeepers, all players at his disposal, so it will play the strongest Schalke team.
Schalke probable lineup: Unnerstall – Howedes, Papadopoulos, Matip, Fuchs – J.Jones, Holtby – Farfan, Draxler, Raul – Huntelaar.
Dortmund is celebrating, but to their sorrow, they have not too much time for celebration, because they expects a difficult new challenge. On Wednesday they made a huge step towards defending league titles, defeating in the duel the only direct competitor, Bayern Munich. It was a real "trench warfare" and we did not saw lots of beautiful football, but Borussia in the first half was much better and closer to the lead. It arrived just ten minutes before the end and at the moment when Bayern took the initiative, with a masterpiece of the team's top scorer Lewandowski It must be said that Borussia had the luck in the finish, and great Weidenfeller the defend a penalty to Robben.
Coach Klopp has brought the expected lineup, with the Kehl who got the advantage over S.Bendera, and changes were expected in the finish of the game. Interestingly, they played a derby without a yellow card and it was theirs 24 consecutive match without defeat. So there are four rounds before the end , very close in defendig title and this is their last difficult obstacles.
They have no problems with injuries and a tough game on Wednesday has taken a toll on this issue, but it certainly there could be some changes in the team. It is expected that Bender will play now instead of Kehl, and maybe even Perisic will get the chance again over Groskreutza in front, although the team which beats Bayern, should not be changed. One point in this game would be quite good for the popular "Millionaire"
Borussia Dortmund probable lineup: Weidenfeller – Piszczek, Hummels, Subotić, Schmelzer – Gundogan, S.Bender – Blaszczykowski, Groskreutz, Kagawa – Lewandowski.


Watch match FC Schalke 04 – Borussia Dortmund live from ours live stream section.